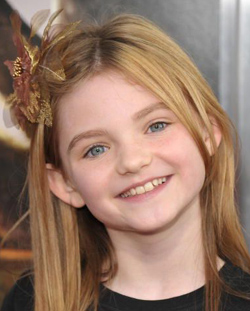 Today, we're here to report that Morgan Lily, January Jones, Zoe Kravitz and Bill Milner have all joined the cast of the upcoming Matthew Vaughn's X-Men: First Class.
Let us remind you that the movie, with quite interesting cast, is set for a June 3rd, 2011 release date, and will follow:
"…the classic Marvel mythology, charts the epic beginning of the X-Men saga. Before Charles Xavier and Erik Lensherr took the names Professor X and Magneto, they were two young men discovering their powers for the first time.
Before they were archenemies, they were closest of friends, working together, with other Mutants (some familiar, some new), to stop the greatest threat the world has ever known. In the process, a rift between them opened, which began the eternal war between Magneto's Brotherhood and Professor X's X-Men."
So, let's get straight to the point! Zoe Kravitz has signed on to play Angel. The character's real name is "Angel Salvadore", and her mutant powers are similar to that of a housefly – flight, fast reproduction, acidic vomit…
On the other hand, January Jones will play Emma Frost, aka the White Queen, "a gorgeous telepath who works her magic in an abs-revealing belly shirt and skin-tight pants" (now, that was an interesting description!).
Young and cute Morgan Lily will portray the very young Mystique, while Bill Milner will play a young Magneto.
They will join the cast that already includes Michael Fassbender as Eric Lensherr/Magneto, James McAvoy as Xavier, Nicholas Hoult as Beast, Jennifer Lawrence as Mystique, Caleb Landry Jones as Banshee, Lucas Till as Havok, Edi Gathegi as Darwin, Kevin Bacon as the yet unknown villain, Jason Flemyng as Azazel, Oliver Platt as The Man in Black and Byrne as Moira MacTaggert.