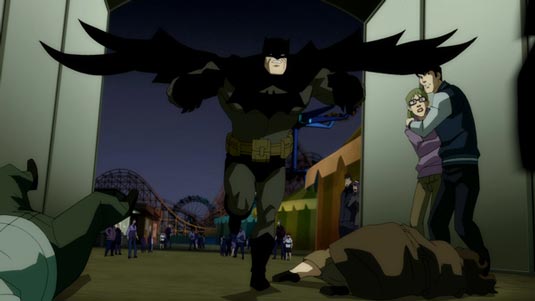 Many fans were impressed with Batman: The Dark Knight Returns, Part 1; they (and we) felt that DC Universe managed to adapt Frank Miller's game-changing Batman tale into a properly dark and uncompromising animated feature, which honored the source material in all the right ways.
Needless to say, anticipation is high for the epic finale that's coming with Batman: The Dark Knight Returns, Part 2 – and today we have some clips and images from the film to appease you before its imminent release on DVD/Blu-ray. Check them out and enjoy!
For those who don't know (meaning .01% of the people probably reading this): The Dark Knight Returns examines a future in which an aging Bruce Wayne (Peter Weller) comes out of forced retirement as Batman to reclaim a Gotham city that is slipping into the grasp of darkness and mayhem. Though noble in intention, Dark Knight Returns, Part 2 shows how Batman's return catalyzes a string of chaotic events that even the Dark Knight himself has a hard time handling – including the re-awakening of his catatonic nemesis The Joker (Michael Emerson), and a showdown with his best frienemy, Superman (Mark Valley).
If you can't tell from that description above, this is the half of the story that brings the bulk of the action and drama to the screen. The clips presented here certainly hint that DC Universe will offer fans plenty of both – while the images below showcase how director Jay Oliva (Green Lantern: Emerald Knights) and his team have successfully emulated the unique style of Miller's iconic artwork:
Batman: The Dark Knight Returns, Part 2 will hit DVD/Blu-ray and Digital Download on January 29th, 2013.