This lady has not been officially cast for the part in X-Men: First Class, but at least she explained us that the character that she auditioned for is similar to Mystique in terms of ability.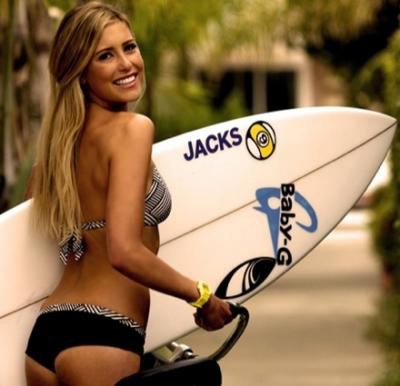 If you still have no idea what we're talking about, then let us explain right now.
Surfer Erica Hosseini auditioned for a part in Mathew Vaughn's upcoming X prequel. And, looks like she revealed a little too much… Or, maybe not?
"I was auditioning for a role named Willow (hopefully I don't get in trouble for blabbing details on the off-chance that I get it)," she stated.
"It's a role similar to Mystique from what I understand. Potentially lots of body paint, so that would be really fun. I just went in for a reading for the new X-Men Movie: First Class… I was extremely nervous and reading my lines the best I could. But I have absolutely no acting experience. I really hope that I get a call back, but I'm not holding my breath."
If you're a comic book fan then you're probably familiar with this character, but if not, then let us give you some facts.
Willow is a mutant with the ability to shape-shift, just like the character of Mystique, who is also rumored to be in the film, only when she does, her facial markings remain.
Willow first appeared in the short-lived comic series titled "X-Nation 2099". Also known under the names Peregrine and Avian, the character has only been featured in six comic book issues.
As you see, we have a lot of updates when it comes to X-Men: First Class project, directed by Matthew Vaughn.
Anyway, let us repeat that movie stars James McAvoy as Professor Charles Xavier, Michael Fassbender as Magneto, Alice Eve as Emma Frost, and, (according to some rumors), Amber Heard as Mystique.
We'll keep an eye on their work, so make sure you stay with us!