Movie News
Abraham Lincoln: Vampire Hunter To Get Fresh With Cooper and Mackie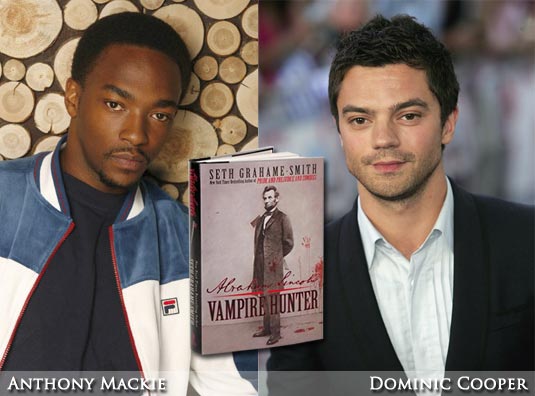 An Education
's
Dominic Cooper
is now in final negotiations to take the role in a
Abraham Lincoln: Vampire Hunter
.
The Hurt Locker
's
Anthony Mackie
is also close to a deal to play
Abraham
's best mate,
Will
. Last week, rumors get started and spread that prank rapper and no thought of departing
Joaquin Phoenix
was being eyed by
Timur Bekmambetov
and 20th Century Fox to play
Henry Sturgess
in a new "Abraham Lincoln". Well, it seems like Phoenix put his smart phone down on Thursday and passed on the part. Now, Fox is negotiating with
The Devil's Double
star Dominic Cooper to play Abe Lincoln's mentor Henry, the mysterious ageless guy who teaches Abe to kill bloodsuckers. Sturgess is a novel key character (which
Seth Graham-Smith
himself has adapted for the screen): a pretty friendly vampire that saves young Abe's life in the middle of a fight. He keeps on mentoring the youngster in the ways of understanding and, more importantly, killing villain's fiends. His diaries serve as story bound for the book, as well. Star of 'The Hurt Locker",
8 Mile
and the upcoming
The Adjustment Bureau
, Anthony Mackie, will play a character named Will, who is most likely William Seward, Lincoln's best friend in the book and a fellow vampire hunter. In a real life, Seward was Lincoln's Secretary of State. Director Timur Bekmambetov (
Wanted
) is putting together a group of up and comers  to headline the movie. That's a smart move since it keeps costs down but by the time the film opens next summer, Mackie and Cooper could be better known. According to a
previous Slashfilm
there are still several other major roles to cast in the movie — a young version of Lincoln; his father; Ann Rutledge; Mary Todd; John Wilkes Booth and probably Edgar Allan Poe.
Benjamin Walker
has already taken place as Lincoln. Bekmambetov is currently in pre-production, aiming for a set release date on June 22, 2012. What's your opinion on Mackie and Cooper joining the film?