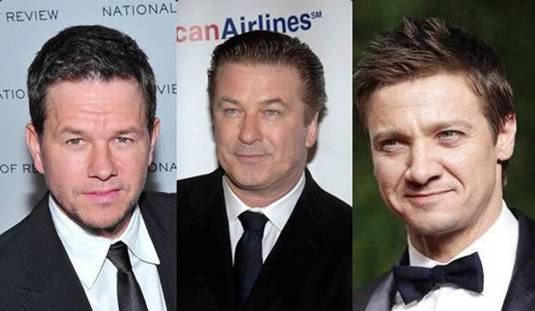 Earlier this week the film was reportedly called Turkey Bowl. Thanks to another film getting sold under that title, the football comedy's changed its name to Three Mississippi, as a working title.
Another mismatch – it was first seen as a project to team up The Other Guys co-stars Mark Wahlberg and Will Ferrell. But, Alec Baldwin was the man who co-inspired the project and Adam McKay , who'll produce the flick through his and Ferrell's Gary Sanchez banner, explained:
The idea was originally conceived for Mark Wahlberg and Alec Baldwin. Owen Burke, who's a producer at Gary Sanchez, and I were talking about how crazily funny Wahlberg and Baldwin were in The Departed — how, even though it's not a comedy, we could just watch them all day long. Burke dropped this idea, and I was like, 'Oh my God, that's a movie!' Then Will heard it and he wanted in."
Okay, the story circles around two rival families (of which Baldwin is the patriarch and Wahlberg is the son) that live across the park and get into an annual football competition with the risks being the ultimate high. McKay added:
The game gets nastier and nastier as the years go on, and Ferrell's family starts just destroying the other family. After a massive heart attack, Baldwin's character's dying wish is that his estranged son, Mark, takes over the game and finally wins one.
McKay also revealed how Jeremy Renner might be involved in project:
We're going to try to get Jeremy Renner to play an ex-con. The idea is to bring in, like, 15 people that we love in and just do a big, funny holiday movie."
McKay responded that he didn't plan to direct the film, but:
I don't think so. I mean, I always like to reserve that right, since it's our company. I have this other project (The Boys), but you never know. If we could shoot this thing next spring, with a tight post-production, we could roll it out for that following Thanksgiving.
Ferrell can now be seen in dramedy Everything Must Go and Wahlberg can next be seen opposite Kate Beckinsale and Ben Foster in the thriller Contraband before shooting Seth MacFarlane's comedy Ted.
Check out Mark Wahlberg and Alec Baldwin in The Departed trailer below:
[youtube]http://www.youtube.com/watch?v=lTaVxTmB5k4[/youtube]
Three Best Lines from The Departed