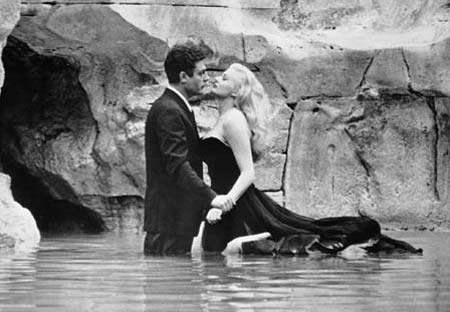 This year's Cannes Film Festival will celebrate the 50th anniversary of Golden Palm (Palm d'Or) Winner Federico Fellini's "La dolce vita" with the world premiere of a documentary about the making of this classic movie.
Titled "We Who Made "La dolce vita" ("Noi che abbiamo fatto 'La dolce vita') the tribute is directed by Gianfranco Mingozzi who was Fellini's a.d. on the film "La dolce vita."
The documentary unspools interviews with Anita Ekberg (Sylvia) who bathed in the Trevi Fountain in the movie, Yvonne Furneaux (Emma), who plays protag Marcello Mastroianni's (Marcello Rubini) suicidal girlfriend and with Anouk Aimée (Maddalena), who plays his lover.
It also features commentary from Rome paparazzi of that time from whom Fellini drew inspiration.
"The film was a great adventure for everyone, and the documentary captures that spirit," said Fellini Foundation topper Vittorio Boarini.
Federico Fellini directed "La dolce vita" and worked on the script with Ennio Flaiano. "The Sweet Life," shot in 1959 and premiered in Cannes in 1960 won Golden Palm 50 years ago.
UPDATE May 24, 2009 – Cannes 2009 Winners