Movie News
Juliette Lewis Stars in THE DAYS OF MARY, Remake of NIGHTS OF CABIRIA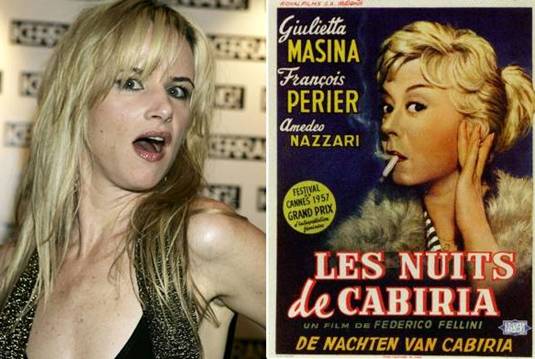 Academy Award nominee Juliette Lewis will step into the shoes of one of the most expressive faces in the history of film, Giulietta Masina — her iconic character in the film titled The Days of Mary, a remake of Federico Fellini's 1957 classic Nights of Cabiria.
The original debuted at Cannes in 1957 and won the Academy Award for Best Foreign Language Film the following year; in 1969 the Neil Simon/ Bob Fosse stage musical (1966) was made into a movie starring Shirley MacLaine.
Now, screenplay will be revisited to some extent, as Constellation Entertainments has acquired the rights to the Cabiria screenplay from the Fellini estate; the new movie, The Days of Mary being directed by Brad Michael Gilbert (The Loss of a Teardrop Diamond), moves the action to Reno, Nevada. Gilbert also adapted Fellini's original screenplay with Meg McGarry.
While Nights of Cabiria subverts the screen convention of the whore with the heart of gold this re-imagining will chronicle the romantic adventure of a buoyant working girl hoping love will rescue her from her home of Reno, Nevada (instead of Rome, Italy)
Gilbert said in a statement:
The story is more relevant than ever — the triumph of a hopeful spirit in the face of a broken world. Juliette was born to play this role. She'll deliver the most vulnerable, humorous and heartbreaking performance.
Lewis' recent credits include comedies The Switch and Due Date, as well as she appeared in the indie-drama Conviction.
At the end of the post just watch how Masina plays Cabiria who chooses to summon the joy not because she is a simpleton, but because she is made of such stuff that she can see no other way.
[youtube]http://www.youtube.com/watch?v=u0rqhdx1154[/youtube]