20th Century Fox has released four new quad posters for the fourth Ice Age film, called 
Ice Age: Continental Drift
. Ice Age series regulars Ray Romano, Denis Leary, John Leguizamo, Seann William Scott and Queen Latifah will be joined by Nicki Minaj, Jennifer Lopez, Nick Frost, Aziz Ansari and Alan Tudyk. In Ice Age 4, Scrat's reunion with his cursed nut catapults him to places no prehistoric squirrel has gone before. Also in the upcoming film, the famous trio Manny, Diego and Sid will embark on their greatest adventure after cataclysm sets an entire continent adrift. Separated from the rest of the herd, the three use an iceberg as a makeshift ship, which launches them on an epic seafaring quest. Manny and the gang are challenged like never before to become heroes and do the impossible, as they encounter exotic sea creatures, explore a brave new world, and battle ruthless pirates.
Ice Age: Continental Drift
is directed by
Steve Martino
(Horton Hears a Who) and
Mike Thurmeier
(Ice Age: Dawn of the Dinosaurs), and is set to hit conventional and 3D theaters on July 13th, 2012.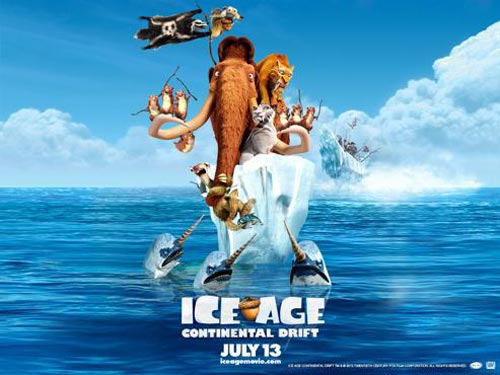 In case you haven't already watched it, check out
Ice Age 4 trailer
.