Movie News
Dreamworks Studios Acquires the Rights for Adaptation of SHADOW AND BONE Novel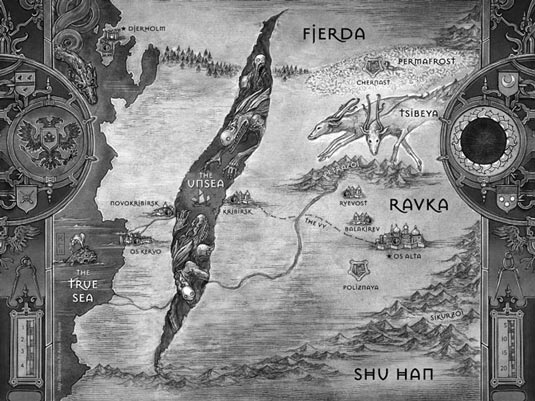 The President of Production at DreamWorks Studios, Holly Bario, announced today that the studio has acquired the feature film rights to Leigh Bardugo's debut novel, Shadow and Bone. The young adult fantasy was published in June 2012 by Henry Holt Books for Young Readers (Macmillan Children's Publishing) and is the first in a planned three-book series, called the Grisha Trilogy. David Heyman, who produced the Harry Potter films, will produce along with Up in the Air producer, Jeffrey Clifford. Heyman said,
'Shadow and Bone' is a riveting and wholly original adventure set in a breathtakingly imaginative world. I am thrilled to be working with the DreamWorks team and incredibly grateful to Leigh Bardugo for giving us the opportunity to bring her work to the screen.
In Shadow and Bone, a young woman must learn to control her newly discovered power in order to save her country from the Shadow Fold, a creature-filled darkness that threatens to overrun the land. As far as movies of this genre go, sounds somewhat like 1983's Krull. Shadow and Bone debuted on the New York Times' Best Sellers list with Bardugo being one of the few first-time authors to make that list this year. The book has been selling consistently since its June 5th publishing date and Macmillan recently went back for a third printing at the end of July. Amazon also selected Shadow and Bone as both an adult and children's Book of the Month pick and is the only title to have that distinction. Leigh Bardugo said,
"I can't think of a better home (DreamWorks) for 'Shadow and Bone.' From moment one, I knew the story would be in great hands, and I'm truly thrilled."
With Heyman producing, I think that this mystical world will be well adapted to the big screen, and I'm looking forward to hear who will they pick for a director and the cast. Internationally, the book was released simultaneously in the United Kingdom with ten more territories scheduled for release over the next year. The next book in the series, Siege and Storm, is scheduled for release in June 2013 with the third installment coming in summer 2014.