Movie News
Dylan McDermott Joins The Perks of Being a Wallflower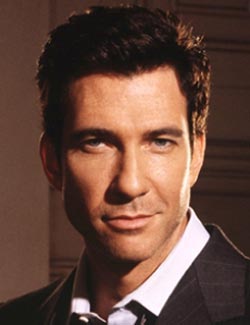 First of all, I like Dylan McDermott. And if you have a problem with that – I don't care! But I want you to know that he will star in the upcoming adaptation of the Stephen Chbosky young adult novel titled The Perks of Being a Wallflower.
Yes, it's the same project we already wrote about, but since I like McDermott, I'm writing about it once again!
So, McDermott will join the cast that already includes Logan Lerman, Emma Watson, Nina Dobrev, Mae Whitman and Johnny Simmons. He is set to star as Lerman's father.
The Perks of Being a Wallflower follows "Charlie, the wallflower of the title, who goes through a veritable bath of bathos in his 10th grade year, 1991. The novel is formatted as a series of letters to an unnamed "friend," the first of which reveals the suicide of Charlie's pal Michael. Charlie's response – valid enough – is to cry.
The crying soon gets out of hand, though – in subsequent letters, his father, his aunt, his sister and his sister's boyfriend all become lachrymose. Charlie has the usual dire adolescent problems – sex, drugs, the thuggish football team – and they perplex him in the usual teen TV ways. Into these standard teenage issues Chbosky infuses a droning insistence on Charlie's supersensitive disposition.
Charlie's English teacher and others have a disconcerting tendency to rhapsodize over Charlie's giftedness, which seems to consist of Charlie's unquestioning assimilation of the teacher's taste in books. In the end we learn the root of Charlie's psychological problems, and we confront, with him, the coming rigors of 11th grade, ever hopeful that he'll find a suitable girlfriend and increase his vocabulary."
As you already know, Chobsky is on board as a director as well, while John Malkovich is independently producing Chbosky's project.
By the way, Chbosky wrote the screenplay from his own 1999 novel that soon became one of the top ten most-banned books by the American Library Association.
We'll keep an eye on this project, make sure you stay tuned!