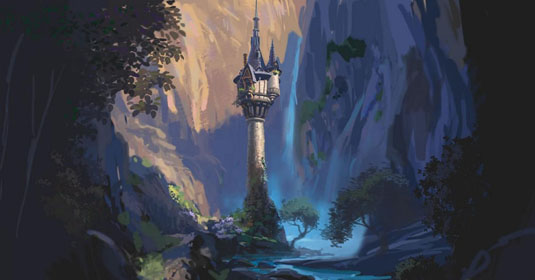 She's been locked away in a tower for 18 years…dreaming, longing for adventure.
And that's just the beginning of the classic Brothers Grimm fairytale, Rapunzel.
Disney made the animated musical comedy, Rapunzel – now entitled Tangled, based on this fairytale.
Now you can see the beginning of the adventure for yourself in the first teaser trailer which has been released.
This is the story about the girl behind 70 feet of magical, golden hair. A princess stolen from her parents' castle as a baby, Rapunzel (voice of Mandy Moore) is locked in a hidden tower longing for adventure
Now an imaginative and determined teenager, she takes off on a hilarious, hair-raising escapade with the help of a dashing bandit (voice of Zachary Levi). With the secret of her royal heritage hanging in the balance and her captor in pursuit, Rapunzel and her cohort find adventure, heart, humor, and hair… lots of hair.
Tangled, directed by Byron Howard (Let It Begin, Bolt) and Nathan Greno (Super Rhino, Let It Begin), features the voices of Mandy Moore, Zachary Levi, Dan Fogler, Kristin Chenoweth, Reese Witherspoon and Donna Murphy.
With original music by Alan Menken and lyrics by Glenn Slater, this comedic comes to theaters nationwide on November 24th 2010.
If you haven't seen Tangled logo and work in progress trailer check it out now, click here
You can watch Tangled teaser trailer below: