Interview
G.I. JOE: RETALIATION New Trailer and Some More Bits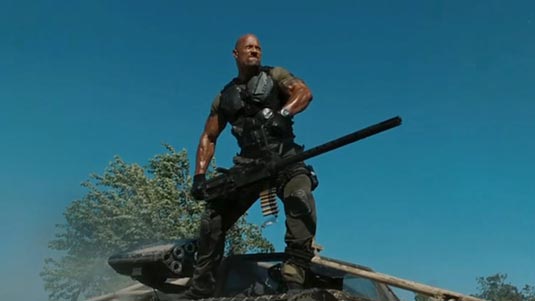 Jon Chu's G.I. Joe 2: Retaliation has ninjas. Lots of 'em. Ninjas vs. each other, ninjas vs. other people. And climbing, jumping, rope-swinging… Ninjas climbing with swords and fighting at the same time. It looks pretty damn awesome, too. And oh, right, there's some plot about Cobra taking over the world and Bruce Willis coming out of retirement and stuff like that. Besides – ninjas, motherf*ckers! Here, have a taste of it in a new trailer: Also, there will be a four-minute preview of the film attached to worldwide IMAX, RealD and digital 3D showings of Hansel & Gretel: Witch Hunters on January 24th, 2013. The preview will run throughout the entirety of Hansel & Gretel's theatrical showtime. According to IGN,
"the four-minute preview is from a protracted ninja battle sequence in the Himalayas, a set-piece that's an homage to the famous "Silent Interlude" issue of the Joe comics. It sees Snake Eyes and Storm Shadow dueling in the mountain lair of the Blind Master, the ninja who mentored them in their youth. The battle spills out from the monastery onto a cliff side before leading into a full on zip line chase sequence and mountainside battle between Snake Eyes, Jinx, and the red-clad villainous ninjas."
Also, the crew from IGN has been one of the few lucky bastards that was allowed to visit the film set for a day, back in October. They peeled their eyes all around, poked their nose wherever they could, ambushed actors for interviews, and here are bits from what they gathered. For the not-yet-full details, visit their site linked above. Also, they managed to catch up with Dwayne Johnson aka The Rock, and here's what he had to say on his part and the film itself: Also… ok, ok, enough. The ninja-packed G.I. Joe 2: Retaliation ALSO stars Channing Tatum, Adrianne Palicki, Ray Stevenson, Ray Park, Joseph Mazzello, Arnold Vosloo, Elodie Yung, Walton Goggins, Jonathan Pryce, Byung-hun Lee, RZA, D.J. Cotrona and Matt Gerald. After getting pushed from 2012, they finally hit the theaters on March 29th, 2013.