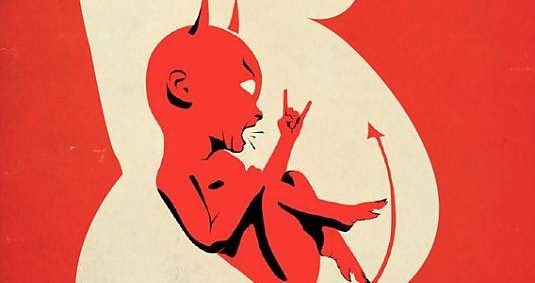 Hell Baby, an upcoming horror comedy from directors Thomas Lennon and Robert Ben Garant (yep, the one that premiered at this year's Sundance Film Festival) is still without an official release date. But, at least we have something pretty cool to share with you today 'cause the first teaser poster for the movie has finally arrived!
Written and directed by Reno 911! and The State's helmers Tom Lennon and Ben Garant, the movie follows couple who move into a haunted home, and seek the protection of the Vatican's top exorcists in their battle against a bouncing baby demon. Or, if you prefer the official synopsis:
An expectant couple moves into the most haunted fixer-upper in New Orleans – a house with a demonic curse. Things spiral out of control and soon only the Vatican's elite exorcism team can save the pair – or can it?
Hell Baby cast includes Rob Corddry, Leslie Bibb, Riki Lindhome, Rob Huebel and Paul Scheer. A fall 2013 VOD launch is planned followed by a theatrical run 30 days later. Click to enlarge & stay tuned for more!