Movie News
John C. Reilly in Talks to Star in The Hunger Games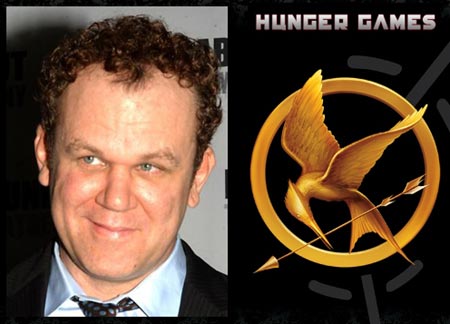 The Hunger Games cast is getting even bigger than we thought. Few days ago we learned that Elizabeth Banks had joined the cast that already includes Jennifer Lawrence, Josh Hutcherson, Liam Hemsworth, Dayo Okeniyi, Amanda Stenberg and Willow Shields but today, we're here to add another name to this list!
Actually, two, because according to the latest reports, not only John C. Reilly is in talks to join the whole thing, but we also have a lady who will play Mrs. Everdeen – a Deadwood star, Paula Malcomson!
As you already know, The Hunger Games is an adaptation of Suzanne Collins' novel of the same name that has been on the New York Times best seller list for over 100 consecutive weeks.
Gary Ross is directing this adaptation from a script by Billy Ray, and the story will follow "…a dystopic Capitol which requires its twelve subjugated districts to pay tribute in the form of a teenage boy and girl, forced to participate in the annual "Hunger Games," a fight-to-the-death live televised event.
Katniss Everdeen's little sister is chosen in the lottery to participate and Katniss volunteers to take her place. Although persevering through hardship is commonplace for Katniss, she must start making choices that weigh survival against humanity and life against love in order to win the games and return home."
So, let's repeat once again: Jennifer Lawrence is set to star as the titular character, Katniss Everdeen; her little sister will be Willow Shields; Liam Hemsworth will play Gale Hawthorne; Josh Hutcherson is going to be Peeta Mellark; Amanda Stenberg and Dayo Okeniyi are set to portray characters named Rue and Thresh' Elizabeth Banks is set to play Effie Trinket, a pink-haired showbiz type who becomes the handler of Katniss, and like we said at the beginning – Paula Malcomson is Mrs. Everdeen.
As for the latest added John C. Reilly, he is in talks to play Haymitch Abernathy, "the only tribute from District 12 to ever win a Hunger Games competition. Since his victory, Haymitch has descended into alcoholism but ends up becoming a mentor to new District 12 tributes Katniss and Peeta."
We'll keep an eye on this project, so don't miss any new update! Stay tuned!