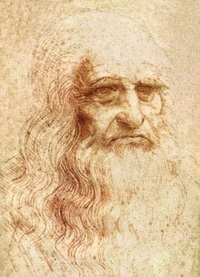 Yes, you read it correctly,
Leonardo Da Vinci
again! But this time it has nothing to do with Dan Brown's book, this story will be about Da Vinci who uses his inventions (presumably including his famous flying machine designs) to defeat supernatural enemies. Weird idea? Surprised yet? Continue reading then… Warner Bros has picked up a treatment entitled
Leonardo Da Vinci and the Soldiers of Forever
which will follow the adventures of this famous man through all those things we're already used to – secret codes, lost civilizations, fallen angels, secret society… On one hand, this could be nice thing to watch, since we all know that his 15th century designs for the helicopter, parachute, car and submarine never progressed further than the pages of his notebook, but they will be gloriously realised in the film. So, as you see, Da Vinci was an artist, inventor, scientist and visionary, but five hundred years after his death, he became a Hollywood action hero!
Adrian Askarieh
, previously involved with Hitman, will produce the movie with his company Prime Universe. He came up with the idea and wrote the treatment. Still, he won't be the one writing the script, and the company is currently seeking a screenwriter. Anyway, it's pretty much obvious that this is some new Hollywood trand, some kind of history re-writing, so it's no wonder news like this came out after last week's announcement by Warner Bros of a "fantasy-adventure" about the 13th century traveller Marco Polo. They are obviously very much interested into historical figures, since we already wrote about new project of
Guy Ritchie – a movie about King Arthur
, and other Hollywood films in the pipeline are a reinvention of Moby Dick and an all-action biopic of Moses. So, be prepared for Hollywood history attack! Some believe that this sounds silly but still very interesting, others hate the idea of this mix, replying that there are people without enough knowledge of history, and could be even more confused with this new ideas. As usual, the truth is somewhere in the middle of the road..