Movie Photos
'Low Life' Set Photos with Joaquin Phoenix and Marion Cotillard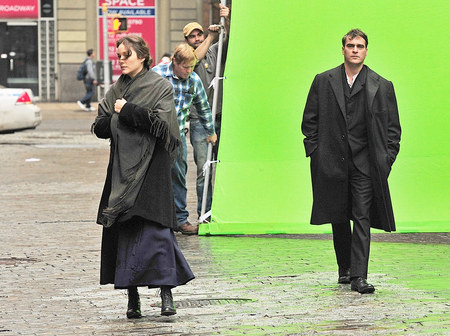 Marion Cotillard
and
Joaquin Phoenix
were spotted on the set yesterday, Friday, January 27th, proof
The Untitled James Gray Project
began filming in the New York City area. The film, also referred in some circles as
Low Life
, is about:
…an innocent immigrant woman from Poland, Sonya Cybulski (Cotillard) is tricked into a life of burlesque and vaudeville until a dazzling magician tries to save her and reunite her with her sister who is being held in the confines of Ellis Island. American dream turns into a nightmare. While sailing to Ellis Island and a new start, her sister grows deathly ill and she is forced to trade sexual favors for medicine and food to keep her sister alive. Once they land, she is warned to keep quiet about what happened … With no place to go, she falls prey to a charming sleazebag (Phoenix), who persuades her to turn tricks in New York.
Phoenix and Gray previously collaborated on 2008s Two Lovers, and the crime drama/thrillers We Own the Night, and The Yards. Untitled James Gray Project hit theaters in 2013 and also stars
Jeremy Renner
and
Dylan Hartigan
. Renner recently explained why he took part in the romantic drama film and how he will shoot the movie in the middle of filming The Bourne Legacy. He said,
What a great opportunity. It's an amazing story. It's James Gray, Marion Cotillard and Joaquin Phoenix. That's some of the best talent out there. It's not an action movie, which at this point, from where I'm sitting, is a nice thing. I can actually take a break on my body and just focus on work and character. That's refreshing. And, to work with that caliber of talent is really exciting. It's a small role. It's something I can shoot in a very short amount of time. There's a pimp, a whore and a magician, and I get to play the magician, in a really cool, early 1900′s immigration movie about Ellis Island.
Check Cotillard and Phoenix out in their peasant garb: