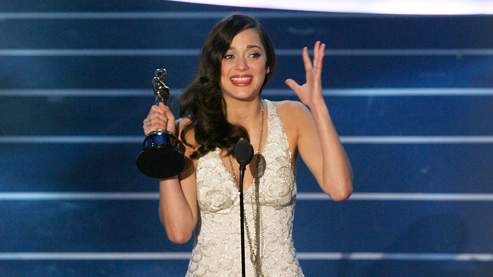 Marion Cotillard got the kudo for her brilliant portrayal of the French songstress Edith Piaf in 'La Vie en Rose.' Cotillard was presented with her prize by last year's Best Actor winner Forest Whitaker. The star of the French biopic 'La Vie en Rose', Marion Cotillard has been honored with her first Academy Award. At the 80th Annual Academy Awards' ceremony at the Kodak Theater, the 32-year-old actress received the prestigious Best Actress prize.
Besting over Cate Blanchett, Julie Christie, Laura Linney and Ellen Page, the thrilled actress praised "Rose" helmer Olivier Dahan for "rocking" her life, saying, "Maestro Olivier, you rocked my life. You have truly rocked my life."
On her acceptance speech, the actress also thanked the Academy as well as anything else saying, 'Thank you, life; thank you, love…it's true there are some angels in this city'. The relatively newcomer in Hollywood, Cotillard have appeared in 'Big Fish' and 'A Good Year'. She will star alongside Johnny Depp and Christian Bale in the upcoming 'Public Enemies'.