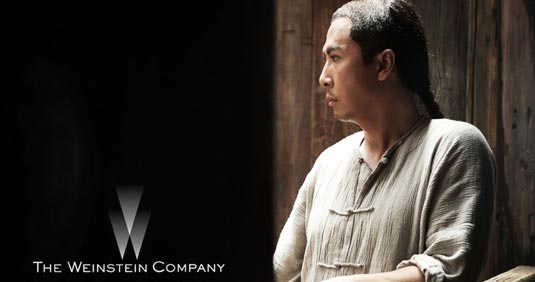 The Weinstein Company (TWC) announced today that it has acquired from WE Distribution the distribution rights for the world, outside of Asia and French speaking Europe, to the martial arts, film noir epic DRAGON (WU XIA). TF1 are already confirmed to distribute the film in France. The film will have its world premiere as part of the official selection at this year's Cannes Film Festival. A 2011 theatrical release is expected in the US.
Director, Peter Ho-Sun Chan, is one of Asia's most celebrated filmmakers, his critical and box office hits include award winning THE WARLORDS, which he produced and directed, and BODYGUARDS AND ASSASSINS, which he produced. With DRAGON (WU XIA) Chan brings to the screen an action-packed tale of crime, family and redemption.
DRAGON (WU XIA) features a dynamic ensemble of internationally celebrated talent, led by action superstar Donnie Yen (BODYGUARDS AND ASSASSINS, IP MAN), a martial arts master, Yen is also the film's action choreographer; Takeshi Kaneshiro (HOUSE OF FLYING DAGGERS, CHUNGKING EXPRESS) and Tang Wei (LUST, CAUTION, LATE AUTUMN). The film marks the first film appearance in 17 years of the legendary Jimmy Wang Yu (ONE ARMED SWORDSMAN, THE CHINESE BOXER), who is widely credited as the first Hong Kong kung fu star.
Along with Chan, the stellar lineup behind the camera includes the rising young director of photography Jake Pollock (THE MESSAGE, MONGA), veteran director of photography Lai Yiu-Fai (INFERNAL AFFAIRS, 2046); legendary Hong Kong production designer Yee Chung Man (THE WARLORDS, CURSE OF THE GOLDEN FLOWER); and leading costume designer Dora Ng (BODYGUARDS AND ASSASSINS, LEGEND OF THE FIST: THE RETURN OF CHEN ZHEN).
TWC has also acquired first option to remake rights for the film.
The announcement was made by TWC Co-Chairman Harvey Weinstein and Vice President of Acquisitions Dan Guando.
Said Chan,
"During the production, Donnie was telling me that Wu Xia becomes more and more like a Weinstein movie. It's no coincidence that Harvey likes the film. I am thrilled to work with Harvey and I think TWC is the best company to take this film to the US and international audience."
Said Weinstein,
"Peter Chan is a true artist and with WU XIA he has created a dream project, combining two of my favorite genres: film noir and martial arts. Peter has been a friend for more than 10 years I could not be happier to be working with him on this film."
Said Guando,
"From the moment the film was announced, TWC has been excited about WU XIA. It is set to be a martial arts classic that will redefine the genre."
The deal was negotiated for TWC by Guando, Laine Kline, Executive Vice President Business and Legal Affairs, and Michal Steinberg, Senior Vice President Business Affairs and Acquisitions; and for WE Distribution by Katherine Lee, Executive Vice President.
WU XIA – SYNOPSIS
In the late Qing Dynasty, Liu (Donnie Yen) is a papermaker, leading a simple life with his wife Ayu (Tang Wei) and their two sons. Into their remote village comes Detective Xu (Takeshi Kaneshiro), who is investigating the deaths of two bandits during a robbery. Xu quickly realizes that the incident in question was no ordinary botched robbery – and his dogged inquiry threatens to dredge up the dark secrets of Liu's buried past, threatening not only Liu and his family, but the entire village
[youtube]http://www.youtube.com/watch?v=RBzx8QBC0_s[/youtube]
Wu Xia/Dragon Trailer