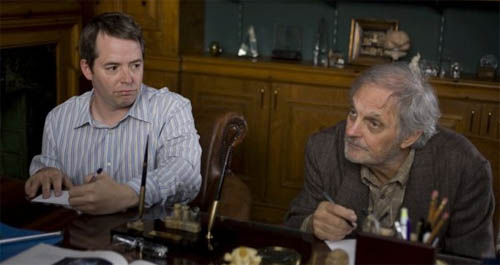 The upcoming comedy "Diminished Capacity" is directed by Terry Kinney starring Matthew Broderick, Virginia Madsen and Alan Alda.
The director Terry Kinney, is not known for his filmmaking, but instead for his acting in "OZ", "Save the Last Dance" and "Devil in a Blue Dress."
"Diminished Capacity" has already appeared at the Sundance Film Festival and is now scheduled to appear in theaters on July 4th, in limited release.
Alan Alda is Rollie Zerb, a small-town Missouri old-timer with Alzheimer's, who lives with his sister (and some guy named Wendell in a trailer by the house). They are visited by Cooper (Matthew Broderick), who arrives at his mother's request to help talk Uncle Rollie into a nursing home. Cooper has mental problems of his own, due to a recent concussion.
While back in town, he runs into Charlotte (Virginia Madsen), his high school sweetheart who is recently divorced from the town mayor. And somehow Rollie, Cooper, Charlotte and her son wind up heading to Chicago, where they are going to try to sell Uncle Rollie's rare baseball card of Frank Schulte, from the 1908 Chicago Cubs (the last Cubbies team to win the World Series!)
Director: Terry Kinney
Writer: Sherwood Kiraly
Cast: Alan Alda, Matthew Broderick, Virginia Madsen
Release: July 4, 2008