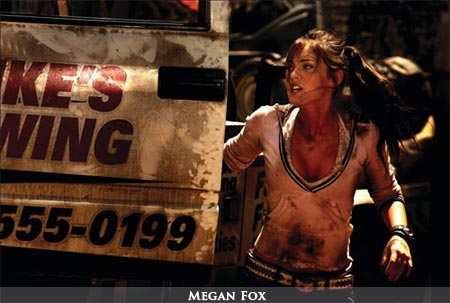 Megan Fox has apparently been chatting up with MTV, talking about the upcoming blockbuster film "Transformers 2: Revenge of the Fallen," revealing the size of the production, her onscreen relationship with Shia LaBeouf's character and Michael Bay's direction for her. Sharing her insight on the new installment of "Transformers" movie, the 22-year-old let out that amongst the epic battle between the Autobots and Decepticons, fans will also be presented with the blossoming romance between the two leading human characters. "Shia and I make out a little bit; I don't know if anyone wants to see that," confessed the rising starlet to MTV. The good news to her fans is that they will see more of her being simply hot as requested by director Michael Bay. "His main note to me is just to look hot; so I try my best," so claimed the actress.
"You know, we've been having script meetings, and we've been reworking the script, because they wrote it fast because of the writer's strike," she explained. "And, we've just been going through and trying to do some character stuff for Shia and myself in the middle of this crazy world that they're in."
"I can tell you that we're on locations in some really exotic places," she added. "It's just going to be a badass movie. It's just going to be a popcorn-visual-spectacle, summer film."
The film is due out in next year's blockbuster season.