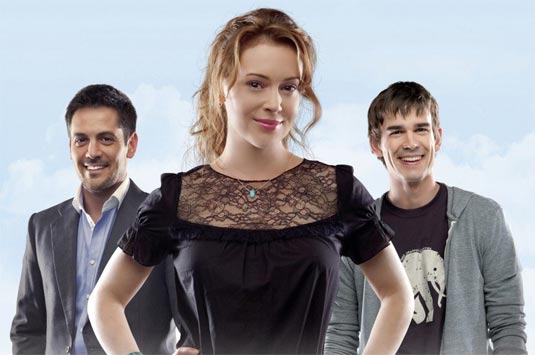 Check out the movie trailer and poster for romantic comedy
My Girlfriend's Boyfriend.
Jesse (
Alyssa Milano
) is a sassy, intelligent woman who has yet to find 'Mr. Right'—until she bumps into Ethan (Christopher Gorham), a writer pushed to the edge of despair after having another novel rejected by publishers. For Jesse, the encounter offers more than a chance to inspire the artist in Ethan again. It also opens a new, romantic chapter in her life… with one huge complication. Moments after meeting the perfect guy for her, Jesse meets Mr. Perfect— Troy (
Michael Landes
), a confident and successful advertising executive who makes almost every moment elegant and romantic. Soon Jesse is in over her head and grappling with the ultimate romantic paradox: what does a girl do when she meets 'Mr. Right'… after already meeting the right guy?
My Girlfriend's Boyfriend Poster The movie is directed and written by
Daryn Tufts
. Along with Milano and Landes the film also stars
Christopher Gorham, Beau Bridges, Carol Kane, Tom Lenk
and
Heather Stephens
.
My Girlfriend's Boyfriend
will hit limited theaters in the U.S. on April 22, 2010.