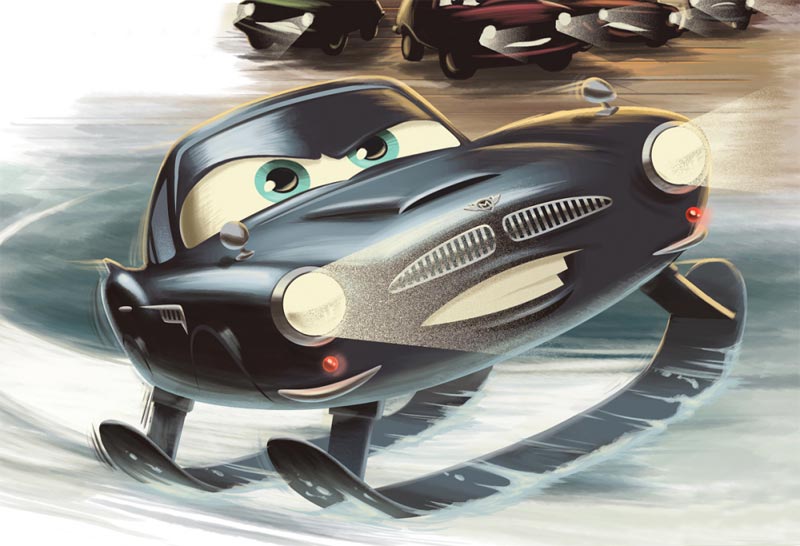 Pixar has sent over three new posters and two images from their highly-anticipated animated adventure Cars 2.
Cars 2 Synopsis: Star racecar Lightning McQueen (voice of Owen Wilson) and the incomparable tow truck Mater (voice of Larry the Cable Guy) take their friendship to exciting new places in "Cars 2? when they head overseas to compete in the first-ever World Grand Prix to determine the world's fastest car. But the road to the championship is filled with plenty of potholes, detours and hilarious surprises when Mater gets caught up in an intriguing adventure of his own: international espionage. Torn between assisting Lightning McQueen in the high-profile race and towing the line in a top-secret spy mission, Mater's action-packed journey leads him on an explosive chase through the streets of Japan and Europe, trailed by his friends and watched by the whole world. Adding to the fast-paced fun is a colorful new all-car cast that includes secret agents, menacing villains and international racing competitors.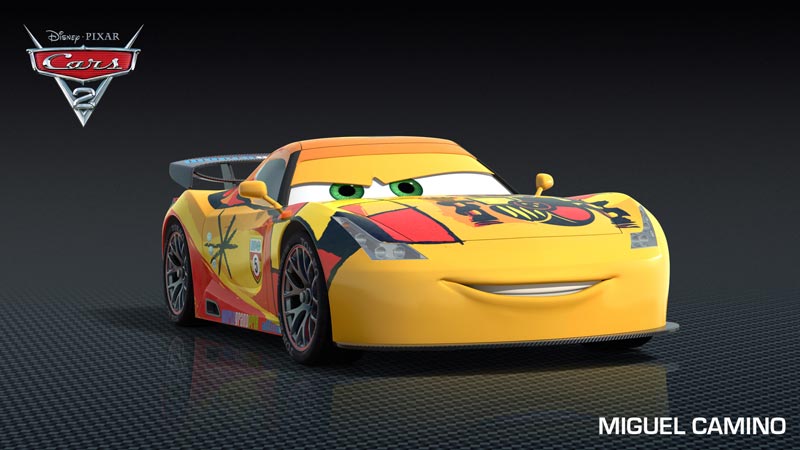 Miguel Camino
He first caught his home country's attention by participating in the infamous Running of the Bulldozers. His flair, style and speed as a toreador in the dozer ring has inspired a generation of young bulldozer fighters, and soon that same speed and verve turned headlights of fans and competitors alike on the Grand Touring Sport racing circuit. Bearing the #5 and the fiery colors of the Spanish flag, Miguel Camino is hoping to race his way into more hearts at the World Grand Prix.
[youtube]http://www.youtube.com/watch?v=HP6o1XQiChs&feature=player_embedded[/youtube]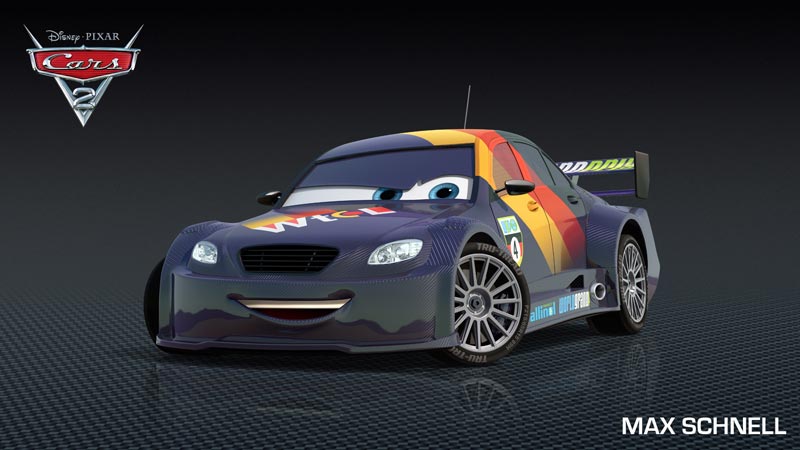 Max Schnell
An avid amateur racer, Max would practice alone in the back roads of the dense Black Forest – a trek that eventually caught the eye of a racing team owner. Soon Max was on a professional circuit, bearing the #4, and as his horsepower increased, he converted himself to carbon fiber, dropping his weight and getting into prime racing shape. He's won more races at Motorheimring than any other World Torque Champion League car in history. A naturally brilliant engineer, he used logic and analytics to refine his build, and plans to approach the World Grand Prix in the same perfectly calculated manner.
[youtube]http://www.youtube.com/watch?v=Xa-BMRF8n9A&feature=player_embedded[/youtube]
John Lasseter returns to the driver's seat to direct this follow-up to his 2006 Golden Globe®-winning "Cars." "Cars 2" is co-directed by Brad Lewis, producer of the Oscar®-winning film "Ratatouille," and produced by visual effects industry veteran Denise Ream (associate producer, "Up"; visual effects executive producer, "Star Wars: Episode III – Revenge of the Sith").
Cars 2 will be released to 3D, 2D and IMAX 3D theaters on June 24, 2011.