Movie News
Original Cars From "Fast Five" Rev Up at Universal Studios Hollywood!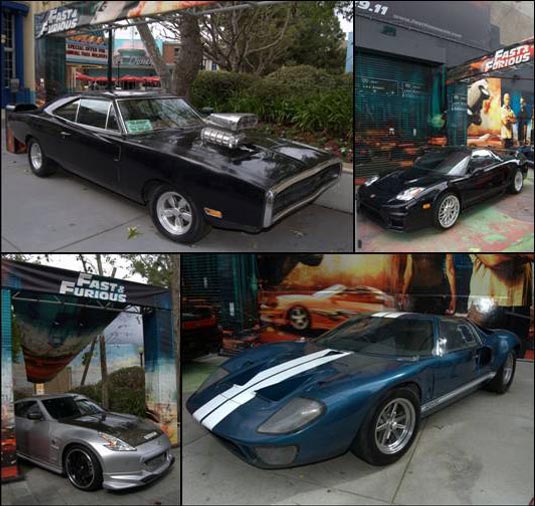 The high-octane muscle cars featured in Universal Pictures' upcoming action-thriller "Fast Five" are on display exclusively at Universal Studios Hollywood and Universal CityWalk as The Entertainment Capital of L.A.SM adds exotic street racers to its world-renowned collection of authentic movie picture cars and props.
Vin Diesel, Paul Walker and Jordana Brewster lead a reunion of returning all-stars from every chapter of the explosive franchise built on speed in "Fast Five." Newly joined by Dwayne Johnson, they take the series that hooked the world on adrenaline and amp up the action and spectacle on a global scale.
The Nissan 370z driven by Brian O'Conner (Walker), the Acura NSX and Ford GT40 driven by Mia Toretto (Brewster), along with Dominic Toretto's (Diesel) 1970 Dodge Charger that appeared in the original film and re-emerged in "Fast Five" will be parked inside the theme park and within arm's reach of fans and car aficionados.
Additionally, Dom's "Fast Five" 1966 Chevrolet Corvette Grand Sport will idle atop of the film's massive train heist truck on Universal CityWalk adjacent to the CityWalk Cinemas offering a great photo opportunity for "Fast Five" movie-going fans.
In "Fast Five," former cop Brian O'Conner partners with ex-con Dom Toretto in a very unfamiliar place: the opposite side of the law in exotic Rio de Janeiro, Brazil. Elsa Pataky joins Johnson and returning favorites Brewster, Chris "Ludacris" Bridges, Tyrese Gibson, Sung Kang, Gal Gadot, Matt Schulze, Tego Calderón and Don Omar in an ultimate high-stakes heist.
"Fast Five" opens in theatres on April 29, 2011.
Universal Studios Hollywood's fleet of famous cars parked along the Studio Tour route currently features more than 18 recognizable prop vehicles from famous movie and TV productions, including a collection of automotive classics from the "Fast & Furious" franchise. The convoy features the 1993 Mazda RX-7 and Toyota Supra from "The Fast and the Furious," the 2002 Mitsubishi Eclipse Spyder from "2 Fast 2 Furious" and the 1987 Buick Grand National GNX from "Fast & Furious." These are all on display adjacent to the popular "The Fast & the Furious Extreme Close-Up" experience on the behind-the-scenes Studio Tour.
Other memorable cars on display include, "Back to the Future" (DeLorean, a futuristic Edsel and Biff's Cadillac), "Serenity" (Mule), "Animal House" (Death Mobile), "The Blues Brothers" (Blues Mobile), "The Mummy" (Dusenberg), "The Little Rascals" ('Norman Schwarzkopf' go-cart), "Magnum P.I." (Ferrari), "Jurassic Park" (off-road Mercedes SUV), and from the Marx Brothers movies, a 1932 Ford Model A.