Movie News
Redbox's Most Rented Movies Of 2013
The folks at Redbox announced their top 10 movie rentals of 2013 and the winners of the third annual Movie Awards, showing American consumers' preferences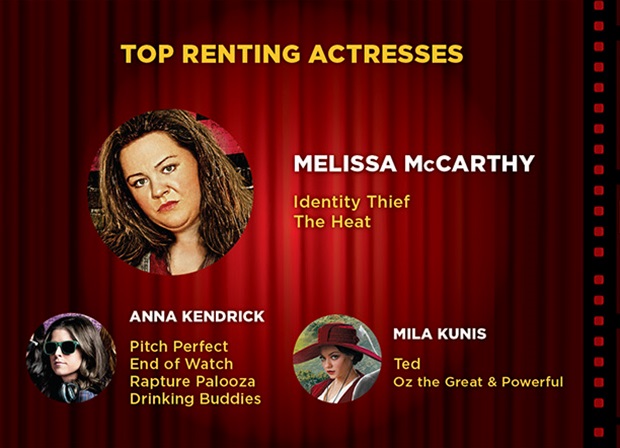 Redbox is one of the most popular subscription movie streaming services which also includes Netflix, Hulu Plus, Amazon Prime and more. Well, the folks at Redbox announced their top 10 movie rentals of 2013 and the winners of the third annual Movie Awards, offering a brief look into American consumers' preferences for home movie viewing. The result is both surprising and embarrassing as it highlights the gap between the general audience and critics by unveiling cinema as an expose of junk-food culture. However, Melissa McCarthy is the common denominator on Redbox's 10 of the best movies of 2013 with two box office comedy hits Identity Thief and The Heat topping the list; World War Z and Flight coming in third and fourth, respectively. Check out their most overall rented titles of the year: 1. Identity Thief 2. The Heat 3. World War Z 4. Flight 5. Olympus Has Fallen 6. Django Unchained 7. Grown Ups 2 8. White House Down 9. Here Comes the Boom 10. Now You See Me The company also released a few 0ther stats of note:
World War Z was the top-renting Blu-ray disc of the year; The Avengers was the most streamed title on Redbox Instant; Olympus Has Fallen was the fastest movie to hit one million rentals – doing that in just three days; Now You See Me stayed in the daily top ten for 63 days, longer than any other title; The Imposter was the most rented documentary.
Redbox also says Bruce Willis tops the list of most-rented actors with Red 2, G.I. Joe: Retaliation and A Good Day To Die Hard. I have no doubt escapism is the main order of the movie business.