Movie News
SENYŪ Anime Set to Premiere on January 8th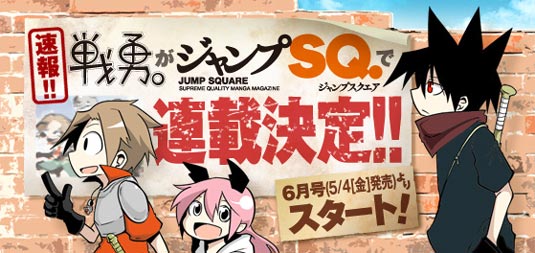 Details on
Yutaka Yamamoto
's latest project,
Senyū
, were initially revealed in the latest issue of Jump Square, but are now available on the anime's official website. The five minute shorts based on
Haruhara Robinson
's original manga debut on January 8th, 2013 on TV Tokyo at 1:35 in the morning, and the niconico (formerly Nico Nico Douga) service.
Hiro Shimono
(Danbōru Senki W, Sket Dance, Binbogami ga!) and
Yūichi Nakamura
(Hyouka, Natsuyuki Rendezvous, Love, Elections, & Chocolate) will lead the cast of the Senyū fantasy battle comedy anime. Synopsis:
One day a hole opens in the world and demons appear. This could only mean that somehow demon king Rukimedes has broken a seal set a thousand years ago by a hero Kureashion, whose descendents are now ordered by the (human) king to supress the new threat. Out of 75 people who "seemed like" they could be descendents of the hero, one would hope that someone could take care of it! Maybe that someone could be hero number 45, Alba… except he's kind of a noob. His palace-decreed partner is the warrior Ross, whose true power is unknown since he doesn't display much enthusiasm for fighting.
Haruhara launched the manga on the Nico Nico Seiga website in 2010, and began serializing it in Shueisha's Jump Square magazine also this year – its panels look like they'd work well as a 5-minute gag show. The anime will cover the first arc of the web version.