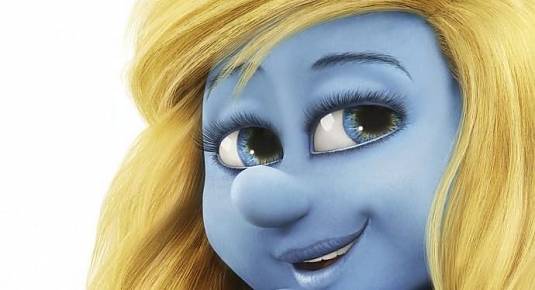 Bet you thought we were done posting about The Smurfs 2? Well, guess what – we're not, and we're ready to share even more, more, and more white & blue character posters for the whole thing! Until you get sick! Just not kidding, head inside to find Papa Smurf, Smurfette, Gutsy, Grouchy and… I have no idea who else, but take a look! So, Gargamel creates the Naughties (aka Hackus and Vexy) to harness the magical Smurf essence. But, he's just an evil guy (not some smart ass) so he soon discovers that only Smurfette can turn the above mentioned duo into real Smurfs.
And that's why he will kidnap her and take her to Paris, and then… well, the Naughties will teach her to become one of them, or something like that. There you go, that's the official story. I mean, my version, hope you like it?
Anyway, my duty is to remind you that the movie is a sequel to the 2011 film The Smurfs, it comes from director Raja Gosnell, and stars Neil Patrick Harris, Brendan Gleeson, Sofia Vergara, Hank Azaria, Katy Perry, Jonathan Winters, Christina Ricci, JB Smoove, Anton Yelchin, and more.
The Smurfs 2 is set to hit theaters on July 31st, 2013, and in case you still care about the whole thing – make sure you click on these posters to take a better look, and stay tuned for moreeeeeeeeee blue madness!