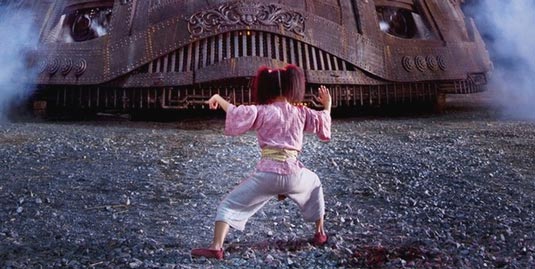 Hey there! I haven't been posting for a while (blame it on the sad story of unpaid bills, heheh), but get ready for the storm: yesterday you got the concept art for Neuromancer, and now I give you the poster, featurette and a bit more for the new Asian wonder, 'from zero to hero' Tai Chi Zero. Have a look at it below:
Here's a featurette: [youtube]http://youtu.be/7W4OxqI8K9U[/youtube] And here's a little something from the film's Facebook page:
With Tai Chi, Chen Kuo-fu and Stephen Fung deliberately set out to create an edgy, hot-blooded and funky Chinese epic. The film-makers were inspired by Hollywood's re-imagining of the Western epic with visually striking films such as 300. With so many similar historical epics now being produced in China, they felt it was the perfect time to completely reinvent the genre. Although the film will naturally appeal to lovers of martial arts films – with its focus on the origins of tai chi – the two film-makers also realized that it was crucial to introduce fresh elements that would appeal to young audiences. Fung turned to Japanese animation and video games – cultures he is deeply immersed in – as his chief inspiration to reinvent the genre. With this film, Fung has introduced machinism, steampunk and alternate-history motifs from science fiction to Chinese cinema. It mixes and matches design elements from different periods in Chinese history to create its unique universe. The art team took diverse inspiration from the sketches of Leonardo Da Vinci to the cultures of various Chinese ethnic groups. Oscar-winning production designer Tim Yip recalls, "Although we were intent on exploring this new possibility for Chinese cinema, we had to approach it with great caution." Stephen Fung explains, "The kungfu aspects of the film were relatively safe because we know how to bring exciting action to the big screen, but everything else in this film is completely new and daring." "Whatever element is introduced, producer Chen needs to justify with a logical reason," notes Yip. "Chen is very experienced on the production side. And Fung, who has directed several films himself, brings something completely new. He's very young so he has the courage to try all manner of new things. Therefore I believe he is really the perfect choice to lead this project."
Aaaand synopsis:
As an uncommonly gifted child, Yang Luchan had a fleshy abnormality that holds tremendous power growing on his forehead. However being teased as the town fool, Yang's mother spurs him to practice martial arts, and following her wishes, Yang travels the distance to come to Chen Village to learn tai chi. At this legendary village, everyone practices tai chi and uses tai chi in every aspect of their lives. Nevertheless, it is forbidden for a villager to disclose tai chi to an outsider, and Yang learned this the hard way. Upon arriving at the village, locals discourage Yang by challenging him with fights. From the strong men to hold ladies to children, everyone defeats Yang with their tai chi moves. After facing the toughest battle and being defeated by Master Chen's beautiful daughter Yuniang, Yang is determined to master the art of tai chi and he needs to find Master Chen. Little does Yang know, the poor strange man who he befriended with is in fact Master Chen who then saved him from the duel with Yuniang. Master Chen realizes Yang's genius and disguises himself to secretly guide Yang to his self realization of tai chi. One day, a frightening steam-powered machine came to the village, lead by Fang Zijing, a childhood friend of Yuniang. He has bribed government officials to permit him to build a railway that will run straight through the village. Yang decided to join forces with Yuniang to defeat Fang Zijing and destroy the machine. This brave act may just win the hearts of the villagers…
Directed by Stephen Fung, Tai Chi Zero is set to hit the theaters on September 27th, 2012 in Australia and Hong Kong, and there is also a date for October 25th, but I'm not sure to what place is that date tied. Tai Chi Zero stars Tony Leung Ka-Fa, Angelababy, Eddie Peng, Shu Qi and Daniel Wu, whom we will be able to also see in The Man with the Iron Fists.