Movie News
Terminator 5 With Schwarzenegger's Back to Acting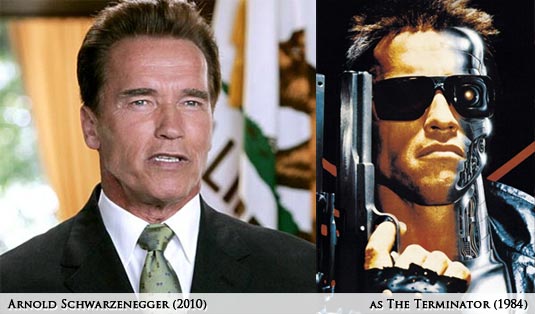 After
Arnold Schwarzenegger
tweeted exciting news on 11.Feb. (that he gave green light to CAA friends), the Universal studio is looking to get
Justin Lin
to direct and
Chris Morgan
to write the script for the new untitled
Terminator
sequel. Creative Artists Agency (CAA) is a leading Hollywood talent agency and Schwarzenegger's personal adviser, Daniel Ketchell, confirmed the tweet Friday morning. Before governing the state of California from 2003 to 2010, the ex-body builder was the star of such blockbusters as the "Terminator" franchise and
True Lies
and comedies like
Kindergarten Cop
and
Twins
. Justin Lin has lately been responsible the
Fast and Furious
sequels including that upcoming fun film
Fast Five
which Universal releases April 29. The plan would be to probably join him with Chris Morgan, who aside from Fast Five has tributes on big scale Universal films that include the new
Keanu Reeves
action movie
47 Ronin
and
Bekmambetov
's
Wanted
(2008). The latest 'master-plan' for a new sequel was back in August when animated company Hannover House surprised everybody by announcing their plans for a PG-13, $70 million, 3D animated film titled
Terminator 3000
that would probably hijack Arnold Schwarzenegger and
Linda Hamilton
to recapture their look from the 80′s & Cameron's well-defined look for the universe. On the other hand,
James Cameron
has less interest in the Terminator series than at any point in his life right now, focusing instead on the
Avatar
world. Deadline reported that William Wisher–James Cameron's collaborator on "Terminator 2" and co-writer on the original scribed a 24-page treatment for the next film and a four-page concept outline for a sixth Terminator project. His version continued the post-apocalyptic battlefield scenario from
Terminator Salvation
, but added in the mode of time travel. I think you'll agree that it will be most interesting to see what shape this franchise takes. Should Arnold just voice his cyborg assassin programmed to kill
Sarah Connor
?
The Terminator (1984) Movie Trailer
[youtube]http://www.youtube.com/watch?v=c4Jo8QoOTQ4[/youtube]