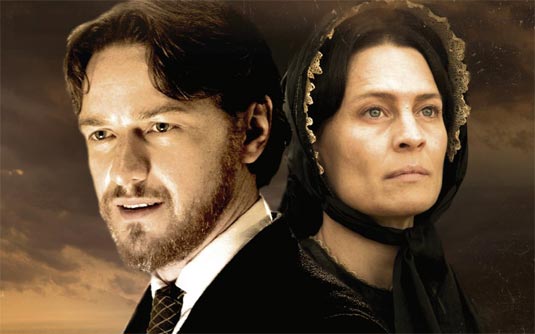 Here's the new poster for Harvey James McAvoy's latest movie, The Conspirator. Also starring Robin Wright, Tom Wilkinson, Evan Rachel Wood, Kevin Kline, Danny Huston, Justin Long, Alexis Bledel, Toby Kebbell and Stephen Root.
Directed by Robert Redford with a script written by James D. Solomon, the film takes place at the end of Abraham Lincoln's life, following the trial of the group that planned and carried out the assassination.
Here's the official synopsis for "The Conspirator":
Against the turbulent backdrop of post-Civil War Washington, rookie lawyer Frederick Aiken (James McAvoy) reluctantly agrees to defend Mary Surratt (Robin Wright) – the lone woman charged as a co-conspirator in the assassination trial of Abraham Lincoln. When his colleagues, friends, and true love begin to desert him, Aiken must rely on Mary's spirited daughter Anna (Evan Rachel Wood) to help piece together the events leading up to the assassination. Facing down the government he fought so heroically to defend, Aiken quickly realizes Mary may be innocent and that she is being used as bait in order to capture the only conspirator to have escaped the massive manhunt: her own son, John. Unwilling to incriminate her boy, Mary refuses to cooperate as Aiken seeks to defend her by building his case against John. With time running out, Aiken puts everything on the line in order to convince a bloodthirsty nation – and Mary, herself – to do what is right. But will this be enough to prevent the U.S. government and its people from flouting principle and exacting revenge?
The Conspirator will hit theaters in the UK on July 1st, 2011.