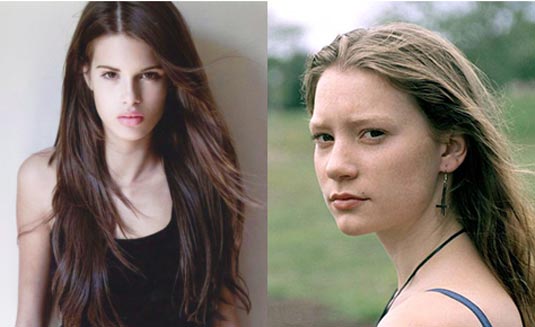 Lionsgate is ramping up their casting efforts for the highly-anticipated sequel The Hunger Games: Catching Fire, with production expected to start later this summer. Actresses Mia Wasikowska and newcomer Zoe Aggeliki are the top candidates to take on a role of Johanna Mason.
Director Francis Lawrence is keen on finding the right actress for the role, whether she is an established talent like Mia Wasikowska, or a fresh face like Zoe Aggeliki. There is speculation that Zoe Aggeliki may sign on in the next few days, but that is not set in stone yet. The actress will make her feature debut next summer in R.I.P.D., where she plays the avatar of Ryan Reynolds' character, Nick. We also reported that she landed a role in Percy Jackson: Sea of Monsters as Silena Beauregard.
The character of Johanna Mason hails from District 7, and it is said she has no friends or family back home. She becomes an ally to Katniss (Jennifer Lawrence) and Peeta (Josh Hutcherson) during the 75th Hunger Games, although she has a bitter relationship with Katniss. Johanna's weapon of choice is the axe.
The Hunger Games: Catching Fire comes to theaters December 22nd, 2013 and stars Jennifer Lawrence, Josh Hutcherson, Liam Hemsworth, Elizabeth Banks, Lenny Kravitz, Stanley Tucci, Donald Sutherland, Toby Jones.