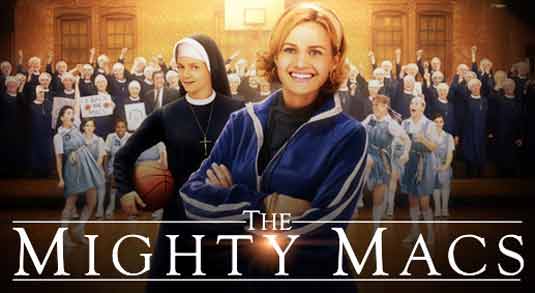 Here's something interesting guys. Today we're here to start a little chat about a new film which is about to hit theaters, titled The Mighty Macs. Movie opens on October 21st, so now is the perfect time for us to tell you that, if you pay a good attention, you can win some cool prizes including movie posters autographed by the film's stars and a contest to win a trip to the movie's premiere!
The Mighty Macks has an inspirational message that you would certainly enjoy. It's based on the incredible true story of the 1971-72 Immaculata College team that started in obscurity but became the original Cinderella story in women's basketball.
This team of pioneers went from barely making that inaugural tournament to the first dynasty in their game. And Cathy Rush, the woman that was ahead of her time, became immortalized when she was inducted into the Naismith Memorial Basketball Hall of Fame.
Movie comes from director Tim Chambers, who also wrote and produced the whole thing. It stars Carla Gugino as Cathy Rush, David Boreanaz as her husband, Marley Shelton as Sister Sunday and Academy Award and Tony Award winner Ellen Burstyn as Mother St. John. Check out the rest of this report for full synopsis part, and enjoy the trailer as well!
Here's full description of the movie: "It's 1971. Cathy Rush is a woman ahead of her time … and she's about to embark on an adventure for the ages. A new era is dawning in the country and in collegiate athletics, where a national champion will be crowned for the first time in women's basketball. In the lead up to this historical season, major universities are preparing their game plans to win that first title. Meanwhile a tiny all-women's Catholic college in Philadelphia has a more modest goal: find a coach before the season begins. Providentially, Cathy Rush is about to find Immaculata College.
Recently married, Cathy is dealing with the aftermath of a truncated playing career. While cultural norms would have her staying at home, she's willing to do the hard work necessary to help her new team reach their goals—or perhaps she's just trying to achieve her unfulfilled dreams through them. From the beginning, her challenges are as imposing as the big-school teams Immaculata will face on the court. Cathy learns there is no gymnasium on campus, she receives little support from the school's Mother Superior, and the school is in dire financial straits. To top it off, she may not even have enough players to field a team! While it appears the Macs don't have a prayer, all hope is not lost.
With the help of Sister Sunday—a spunky assistant coach—and the support of a booster club of elderly nuns, Coach Rush creates a new game plan that just might bring the team—and the school—together. Will this pioneer buck cultural norms and spur her rag-tag team to unexpected heights? Or will her hard-driving ways create a wedge between the coach and everyone around her? One thing's for certain: there's never been anyone like Cathy Rush at Immaculata!"
Don't forget, The Mighty Macks opens on October 21. Stay tuned for more updates on this one, and win the cool prizes!
[youtube]http://www.youtube.com/watch?v=h9SOMtXdp6E[/youtube]
The Mighty Macs trailer