Interview
WALL-E Concept Art And BURN-E Short Film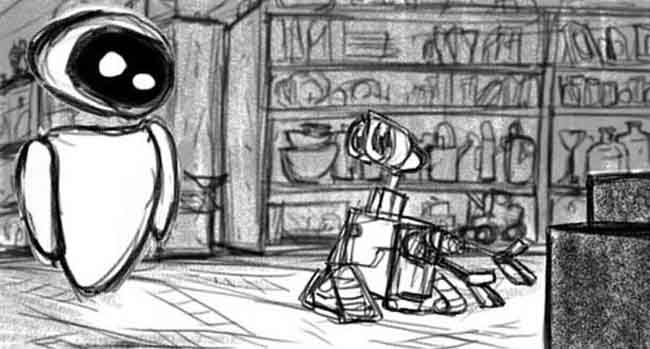 Here's a new short film from
Pixar
–
BURN-E
or Basic Utility Repair Nano Engineer. The seven and a half minute short film – which is including on the upcoming DVD/Blu-ray release of
WALL-E
is directed by
Angus MacLane
. WALL-E DVD/Blu-ray will be available on November 18th.
CinemaBlend has an interview with BURN-E director Angus MacLane:
Q: WALL-E stands for Waste Allocation Load Lifter, Earth class. What does BURN-E stand for?
A.M.: BURN•E stands for: Basic Utility Repair Nano Engineer. I have since heard from some people that it actually be BURN•A because the "E" in WALL•E stands for "Earth-Class" and the "A" would be the appropriate "Axiom-Class". Now I could argue that maybe BURN•E was a robot on earth that then was installed on the Axiom, but A: I would be lying and B: What is the point? If that is the biggest problem you have with the film, then I have done my job. Now put yourself in my shoes- you have to name this robot. The name BURN-E is funny and breaks the continuity of the film or BURN•A which is more accurate to the feature and is not funny at all. Which would you choose? I thought so. I do love that geeks pick up on this and I am happy to be creating this controversy. I'd probably do the same thing were I not involved.
Q: How hard was it to think of a name that sounded like a robot but was a pun for a human name (Bernie)?
A.M.: His name internally had been "Repair Bot" When I started the short, I envisioned him as being called WELD•R. About two days later Jim Reardon, the head of WALL•E Story handed me a drawing he had done of the word BURN•E burned into metal. After that there was no going back.
Q: Why'd you decide to give Burn-E of all the characters in Wall-E his own short?
A.M.: I thought he was a fun character to animate. After I had animated the shot with him in the feature I wanted to know what happened to him. I wanted to answer that question with this short.
Q: How did you go about choosing scenes from Wall-E that Burn-E could impact? Did you have to scrap any ideas that just wouldn't fit with the existing story?
A.M.: I came up with as many places in the movie as I could think of to cut back to. We cut whatever wasn't funny or slowed the pace down. Oddly enough the scene from the feature that sparked the original idea for BURN•E was cut from the feature. The scene is too complicated to explain. Maybe that's why it never made it.
Q: How hard was it to get the right type of emotion out of a robot?
A.M.: It is always our goal as animators to make our work clearly communicate the thought process of the characters to the audience. It was particularly challenging for us on BURN•E as well as WALL•E because of the limited nature of the designs and the lack of dialogue. Both characters limited designs are are appealing, but more work must be done in the story process to communicate his intentions. With BURN•E and with WALL•E, if the audience can't tell what the character is thinking or what is going on, then they lose interest very quickly. Read full story –
CinemaBlend
Now take a look at these great WALL-E concept art – sketches of WALL-E and EVE and concept art for "Trash Planet."
WALL-E concept art