Movie News
Warner Brothers and Fox Settle The Watchmen Suit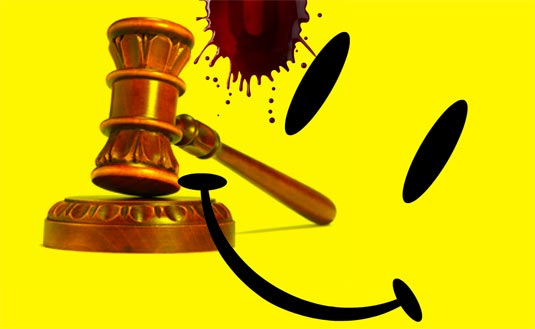 The copyright dispute between
Warner Bros
and
Fox
that was threatening the release of "
Watchmen
" has been resolved on Friday morning and request that the case be dismissed.
The Hollywood Reporter
:
Terms of the agreement were not disclosed, but the deal is said to involve a sizable cash payment to Fox and a percentage of the film's boxoffice grosses; Fox will not be a co-distributor on the film, nor will it co-own the "Watchmen" property, but it will share in revenue derived from it. The studios released a joint statement last night. "Warner Bros. acknowledges that Fox acted in good faith in bringing its claims, which were asserted prior to the start of principal photography," the statement read. "Fox acknowledges that Warner Bros. acted in good faith defending against those claims." "The matter is fully and finally settled," Fox's attorney Louis A. Karasik said after Judge Gary Feess said he had read a lot about the settlement in the newspapers but noted "there is noting in my docket."
Fox sued Warners in February of 2008, claiming copyright infringement based on agreements the studio had with producer Larry Gordon. Feess ruled on Dec. 24 that Gordon did not secure the proper rights to Watchmen from Fox before shopping the project and eventually setting it up with Warners. Feess' decision prompted settlement talks to heat up because Warners faced the prospect of an injunction stopping its March 6 release of the $130 million comic book adaptation. "Watchmen" hits theaters on March 6th, 2009.