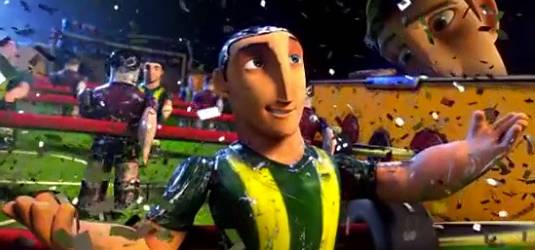 Here's something different for the weekend — a brief teaser which starts off with a successful football (or soccer) player talking about what it's like to be on the sideline, about all the goals that he scored and the camera pulls back and focuses to reveal that our subject is not a professional football player, but actually a small table football (foosball) figure.
Yes we do talk about Juan Jose Campanella's animated project Foosball, previously called Metegol. The film
follows an underdog who, with the help of foosball figures that come to life, must take on a star soccer pro to save their village.
The teaser trailer has been dubbed for an English-speaking audience, while the original Argentinian film actually has a native speaking cast, including Pablo Rago, Fabian Gianola, Miguel Angel Rodriguez, Horacio Fontova and David Masajnik.
As you might know Campanella is following up his Academy Award winning film The Secret in Their Eyes with an animated feature because of his passion for the sport (scene from Secret in Their Eyes that takes place at a soccer stadium).
Hopefully we'll get to see the film stateside sometime this year.
Check out the trailer below.
[youtube]http://www.youtube.com/watch?v=RTgqdbRX-hU[/youtube]