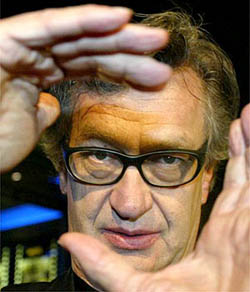 German director Wim Wenders will head the main jury of the 65th Venice Film Festival, organizers said on Friday.
Wenders is perhaps best know for his films "The Buena Vista Social Club" (1998) and "Paris, Texas" (1984), both of which scooped up international awards.
Wenders, who won the Venice Golden Lion 10 years later for "The State of Things," was most recently at the Lido with "Land of Plenty" in 2004.
His first appearing at Venice Film Festival was with the "Goalkeeper's Fear of the Penalty Kick" in 1972.
His latest film, "Palermo Shooting" starring Dennis Hopper, had its premiere at the Cannes film festival last month.
The festival, in its 65th edition this year, runs from Aug 27 to Sept 6 and the Coen Brothers' comedy "Burn After Reading" will open the fest.
The Venice lineup will be announced July 29.