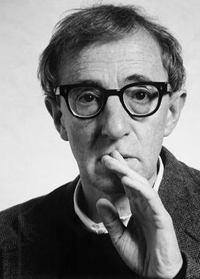 We already wrote about Woody Allen's next mysterious project. And we also promised you more information about the whole thing.
So, next Allen's movie is titled Midnight in Paris.
If you're his fan, continue reading about this interesting project, because some interesting things are revealed about this film that starts shooting this summer in Paris…
So, what we already know about Midnight in Paris is that it's a romantic comedy that follows a family travelling to the city for business, including a young engaged couple that has their lives transformed throughout the journey.
Or, if you prefer the official announcement "the film celebrates a young man's great love for Paris, and simultaneously explores the illusion people have that a life different from their own is better".
At this moment we know that Woody Allen, who has announced that the cast for this movie will include Owen Wilson, Marion Cotillard, Rachel McAdams, Kathy Bates, Michael Sheen, Nina Arianda, Tom Hiddleston, Corey Stoll, Mimi Kennedy, Kurt Fuller and Carla Bruni-Sarkozy.
If you remember, we already wrote about Bruni-Sarkozy, wife of French president Nicolas Sarkozy and her possible cast in this one, and as you see, now there's no doubt she will soon be on a big screen.
Letty Aronson, Steve Tenenbaum and Jaume Roures are producing the whole thing, which is part of a three-picture financing deal between Allen's Gravier Prods. and Mediapro.
Since we all know they already worked together on his Vicky Cristina Barcelona and his upcoming You Will Meet a Tall Dark Stranger we have no doubt that Midnight in Paris will be something good as well, especially with cast like this!
We are sure that we'll soon have more informations about this one, but first let's see how You Will Meet a Tall, Dark Stranger works out, since, let us remind you, it is also set to screen out of competition at Cannes next month. Who knows, maybe Allen will start another one in the meanwhile? Don't miss a thing, guys, stay tuned!