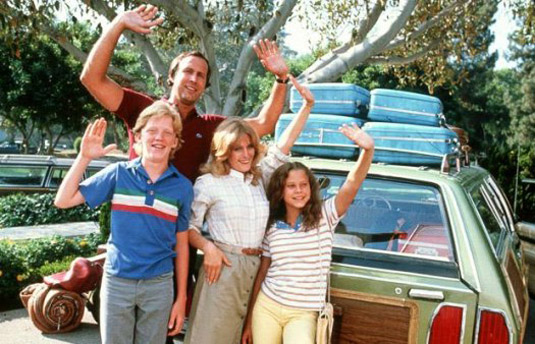 Well, guess what guys, it looks that Vacation reboot is coming after all! Just in case you were worried about this comedy, we've just learned that John Francis Daley and Jonathan Goldstein have finished a second draft of the script, and apparently – it looks great!
Of course, we have no doubts about the whole thing and that's exactly why we're here today. I mean, after all, the above mentioned duo did some great job with Horrible Bosses movie, right?
So, according to 24Frames, studio New Line is eager to get moving on the reboot, and is reaching out to potential directors, including Peter Segal, the director of 50 First Dates, who has some experience with reviving classic comedies, having directed the remakes of The Longest Yard and Get Smart.
But first, let me remind you what guys from THR reported back in 2009! They said this reboot will focus on Rusty Griswold, the son of Clark Griswold, the protagonist of the initial movies and portrayed by Chevy Chase.
The younger Griswold is now a father in his own right and takes his family on a road trip vacation. The characters would acknowledge that first trip, making the movie more of a sequel than a reboot.
Chase and Beverly D'Angelo, who played the mom in the original movies, will have room to make appearances as grandparents, providing a sense of continuity, though no deals are in place.
Now, thanks to David Dobkin, who's producing the reboot and who had a little chat with Collider, revealed:
"Oh my God dude, this script came out so good it's crazy. It's not a total reboot by the way, it's a reboot of the franchise but it's Rusty's story. It's not trying to start again from zero. It's great because it's all about how you make the mistakes your father made, that your parents made. It's so smart, and it's insanely funny. The guys that wrote 'Horrible Bosses', Goldstein and Daly, wrote it. We're just about to go out for casting for that."
Dobkin also added:
"Look one of the things I love about the original movie is comedies overall do not stand up over time, the sense of comedy changes in each generation, but 'Vacation' is still as shocking and as funny as it was when it was made. There's stuff in that movie that you would think was insane today: "Daddy taught me how to French kiss," I mean there's just things that are insane, it's off its head. So that's why I went for it, cause I really loved it and I just love the themes of that movie."
Unfortunately, Dobkin wouldn't confirm or deny that Chevy Chase will be a part of the cast, although we're definitely hoping that will happen.
Any thoughts on possible cast? Let us know, and stay tuned!
[youtube]http://www.youtube.com/watch?v=Kn6uqwSjDjY&feature[/youtube]
Vacation Trailer