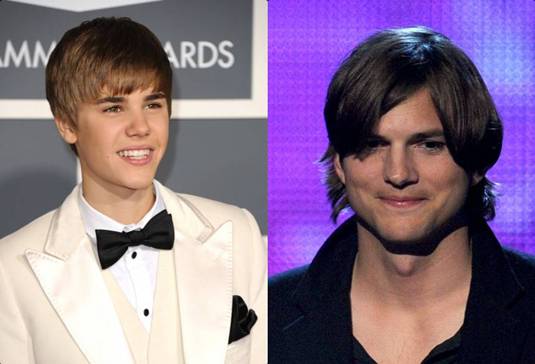 Justin Bieber is looking at a lead role in the comedy What Would Kenny Do? picked up by Sony. The film tells of a relationship between a 17-year-old and his 30-year self. 30-year old version of the character would be played by Ashton Kutcher, the source said.
R-rated comedy following a teenager who meets a hologram claiming to be the adult kind of himself; the hologram then helps lead the teen through high school.The Chris Baldi script, which landed on the Black List in 2008, was redrafted by Scott Neustadter and Michael Weber ((500) Days of Summer). The story now includes Kutcher's successful character traits, swinging back in time to help the current 17-year Bieber, who remains uncomfortable. A new writer and director are now being required.
Ashton Kutcher's last few films haven't been massive earners, but now he is in position to make a flick that could bring him to a fresh young audience. This is the second possible teaming of Kutcher and Bieber, as the two once talked about reviving Punk'd.
Kutcher will next be seen in the ensemble holiday comedy New Year's Eve, scheduled for release on December 9.
After Justin Bieber: Never Say Never the young singer star could be turning back to the big screen in scripted form. The project has been produced for months with Bieber both in mind and on board; initially the plan was to start the principal photography this year, but the Bieber's touring obligations could push it to 2012.
Seems Bieber would be following a path taken by Miley Cyrus, who made the transition from music idol to actor. His music doc Never grossed more than $70 million in the U.S.
High-school girls! LOL
And check out the finale of Biber's CSI character.
[youtube]http://www.youtube.com/watch?v=jWT_GoWsVTY[/youtube]