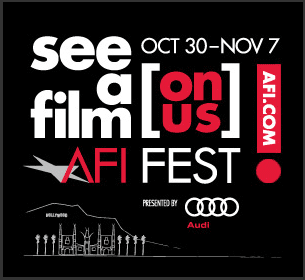 The complete lineup for the 23rd edition of the
American Film Institute
(AFI) Fest presented by Audi has been announced. Wes Anderson's "
Fantastic Mr. Fox
" has already been announced as the opening night gala. The Weinstein Company's "
A Single Man
" will have its US premiere at the festival's Closing Night Gala. Sony Pictures Classics' "
The Imaginarium of Dr. Parnassus
" has been selected as the Centerpiece Screening Gala presentation. The film festival, which will debut it's groundbreaking "See a Film on Us" initiative featuring complimentary tickets to all films including a limited number of seats at each Gala Presentation, will be headquartered at the historic
Grauman's Chinese Theatre
and
Hollywood Roosevelt Hotel
between
October 30 and November 5
. AFI FEST will then move to Santa Monica for the final two days of screenings presented in association with the American Film Market (AFM). AFI FEST 2009 will mark the return of Werner Herzog to the Festival after Herzog's celebrated panel appearance two years ago. Herzog's "
Bad Lieutenant: Port of Call New Orleans
" is a loosely interpreted re-imagining of Abel Ferrara's gritty classic starring Nicolas Cage as a rogue detective who is as devoted to his job as he is to scoring drugs. Complicating his tumultuous life is the prostitute he loves (played by Eva Mendes). The film also stars Val Kilmer. The Festival also welcomes back Bong Joon-ho (following the screening of THE HOST in 2006). The South Korean entry for the Academy Awards, Bong's
MOTHER
is an inventive thriller that follows a woman's personal investigation into a murder in order to clear the name of the accused – her son. Kirk Jones' "
Everybody's Fine
" will have its world premiere on Tuesday, November 3, 2009, at the Grauman's Chinese Theatre in Hollywood. "Everybody's Fine", a remake of Giuseppe Tornatore's STANNO TUTTI BENE, stars
Robert De Niro
as a widower who, upon realizing his only connection to his family was through his wife, sets off on an impromptu road trip to reunite and reconnect with each of his grown children. What follows is a series of eye-opening experiences for the working-class man as he learns the truth about each of their lives. Written and directed by Jones, the film also stars
Drew Barrymore, Kate Beckinsale
and
Sam Rockwell
. Jones, as well as De Niro and Beckinsale, will attend the world premiere of the film. The Miramax Films release is due in theaters on December 4. AFI FEST also announced the debut of the New Lights Competition, which features a selection of groundbreaking films by first and second time filmmakers from around the world. Also included in the list of film titles announced today are the latest work by such noted auteurs as acclaimed French New Wave director Claude Chabrol (
BELLAMY
), Ken Loach (
LOOKING FOR ERIC
) and Harmony Korine (
TRASH HUMPERS
). Rose Kuo, AFI FEST Artistic Director said:
"These first dozen titles offer a wonderful preview to our lineup which is a survey of the year's significant films. They represent a diversity of voices and we take great pride in being able to bring them to Los Angeles audiences for the first time,"
The official selections include:
THE BAD LIEUTENANT: PORT OF CALL, NEW ORLEANS

(USA)
Director:
Werner Herzog
Set in New Orleans in the aftermath of Hurricane Katrina,
Nicolas Cage
plays a rogue detective who is as devoted to his job as he is to scoring drugs — while playing fast and loose with the law. With the prostitute he loves, the couple descends into a world marked by desire, compulsion and conscience. The film also stars
Eva Mendes
and
Val Kilmer
.
BELLAMY

(France)
Director:
Claude Chabrol
A famous French detective (played by
Gerard Depardieu
) on vacation in Languedoc investigates a mystery man who approaches him claiming to have killed someone. The film also stars
Clovis Cornillac
and
Jacques Gambli
n.
EVERYONE ELSE

(Germany)
Director:
Maren Ade
Drama follows the volatile relationship resulting from the psychological and emotional ties between two young lovers.
THE LAST STATION

(UK/Germany)
Director:
Michael Hoffma
A historical drama that illustrates Russian author Leo Tolstoy's struggle to balance fame and wealth with his commitment to a life devoid of material things. The film stars
Helen Mirren, James McAvoy, Christopher Plummer
and
Paul Giamatti
.
LOOKING FOR ERIC

(UK)
Director:
Ken Loach
Eric, a football fanatic postman whose life is descending into crisis, receives some life-coaching from a poster of the famously philosophical footballer,
Eric Cantona
.
MOTHER (Madeo)

(South Korea)
Director:
Bong Joon-ho
This thriller follows the investigation of a murder by a mother desperate to find the killer who framed her son for the crime.
POLICE, ADJECTIVE

(Romania)
Director:
Corneliu Porumboiu
This drama follows the impact on a young policeman's life after he refuses to arrest another man for offering drugs to his friends.
PRECIOUS: BASED ON THE NOVEL PUSH BY SAPPHIRE

(USA)
Director:
Lee Daniels
In Harlem, an overweight and illiterate teen pregnant with her second child and abused by her domineering mother is invited to enroll in an alternative school with the dream to move her life in a new direction. The film stars
Mo'Nique, Paula Patton, Mariah Carey, Sherri Shepherd, Lenny Kravitz,
and introducing
Gabourey Sidibe
.
THE WHITE RIBBON

(Germany)
Director:
Michael Haneke
The film focuses on an obscure German farming village just before World War I. The population operates on the same notions of class, hierarchy and morality that have reigned for a thousand years, until sudden mysterious acts of cruelty and violence occur. Inexorably, the poison seeps into the fabric of everyday life, foreshadowing the horrific catastrophes that soon will redefine German identity. The film was the winner of this year's Palme d'Or and two other Cannes awards.
RED RIDING

(UK)
Directors:
Julian Jarrold, James Marsh, Anand Tucker
Three inter-connected films set in the years 1974, 1980 and 1983 trace the crime and corruption in West Yorkshire, England. The films star
Mark Addy, Sean Bean, Paddy Considine, Andrew Garfield
and
Rebecca Hall
.
TRASH HUMPERS

(USA)
Director:
Harmony Korine
A cinema verite look at a fringe cult-freak collective with a penchant for anti-social behavior and activities.
VINCERE

(Italy/France)
Director:
Marco Bellocchio
This drama tells the story of Mussolini's secret lover, Ida Dalser and their son, Albino. AFI FEST 2009's overall lineup will showcase 67 features (54 narrative, 13 documentary) and 26 shorts for a total of 93 films from 32 countries. Source [
afi.com
]