Movie News
Amy Adams' 'Enchanted' Role Might Be Her Ticket To Happily Ever After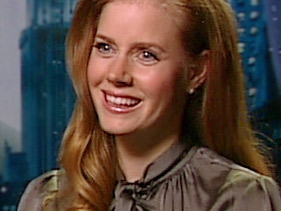 After years of struggling in supporting roles, the actress has landed at the top of the box office as Princess Giselle.
Once upon a time, in early 2002, a struggling young redheaded actress who dreamed of bigger things made her way into a Brentwood, California, yard sale, looking for a bargain. She struck up a conversation with the beautiful brunet proprietor, who was selling secondhand IKEA furniture in preparation to shack up with her boyfriend (who also happens to be the writer of this story). After introducing herself as Amy and chatting about her small role in Steven Spielberg's next movie, the woman helped herself to an ample array of discounted Scandinavian furniture. Only in Los Angeles.
Now, Amy Adams' fantasies have come to life, as the 33-year-old is currently starring in Hollywood's reigning box-office champion, "Enchanted," which raked in $50 million over the Thanksgiving weekend. But who, exactly, is this new leading lady?
"I'd like to come in at the happily-ever-after moment," she explained to MTV News recently, using her Princess Giselle role as a jumping-off point for her own thoughts on happy endings. "Often, there's a lot of struggle that involves getting to happily ever after. So, I guess I'd like to see what happens in that happily-ever-after part."
Raised as an army brat, Adams was born in Italy, grew up in Colorado alongside six siblings and was later discovered doing dinner theater in Minnesota. After performing songs and plays while growing up in her Mormon household, and then singing in her high school choir, Adams helped pay the bills in her late teens as both a greeter at the Gap and a wing-serving hottie at Hooters.
After making the move to L.A. in the late '90s, Adams began her career with the Kirsten Dunst flick "Drop Dead Gorgeous," then made her way through TV programs such as "That '70s Show," "Charmed" and "Buffy the Vampire Slayer." By all accounts, however, her big Hollywood breakthrough came as perky candy striper Brenda Strong in that Spielberg flick, "Catch Me if You Can." Months after Leonardo DiCaprio teased her for appearing in "Cruel Intentions 2," the actress was on the map enough to earn work as Jim's short-lived girlfriend on "The Office" and Ricky Bobby's mousy assistant in "Talladega Nights."
As the "Enchanted" production was gearing up in 2005, Adams began popping up in art houses in the low-budget pregnancy drama "Junebug," a film that took her all the way from its tiny set in Winston-Salem, North Carolina, to her first Academy Award nomination. She lost the Best Supporting Actress award to Rachel Weisz ("The Constant Gardener"), but Adams had made it in the eyes of the critics. Still, she sought to toe the line between indie darlings and megaplex blockbusters.
"I loved Cinderella growing up," Adams said, explaining that there is a slice of herself in each character she chooses. "There was make-believe, but there wasn't the same princess phenomenon when I was growing up."
Now, with "Enchanted," Amy Adams has made Disney's princess phenomenon stronger than ever before. Her immediate future is certainly as bright as a ruby-encrusted tiara, with roles in next month's buzz-heavy Tom Hanks flick, "Charlie Wilson's War"; the 2008 Frances McDormand art film "Miss Pettigrew Lives for a Day"; and "Sunshine Cleaners," a grisly comedy in which she and fellow up-and-comer Emily Blunt play sisters.
If all that weren't enough, Adams is also managing the rare feat of mixing blockbuster success with her very own awards-season buzz, turning "Enchanted" into a Disney double-threat much like Johnny Depp did with the original "Pirates of the Caribbean" flick. In the absence of a magic mirror to predict the final outcome, one thing is for certain: Amy Adams can finally upgrade her living room set.
And if there's a secret to her success, it might just be Adams' knack for committing to even the most cartoonish of concepts.
"I never really considered that I was walking that line of making fun of anything," she said of her mindset during "Enchanted." "I think, for me, that was the key to playing this role: Trying to play it with honesty and integrity and truth."