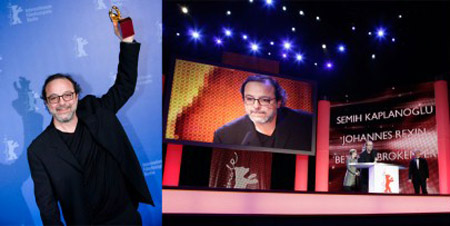 This year's Berlin Film Festival competition was very interesting indeed. Some directors got their chance to go home with a little gold-bear statue, while the other ones had to stand there and take not so good critics. Among all directors, from all over the world, one got pretty lucky, and for the second time in this festival history, Turkey celebrated.
The 60th Berlin Film Festival ended on Saturday with the prize ceremony, bringing to an end a 10-day cinema showcase where hundreds of movies were screened.
Golden Bear for Best Film won Semih Kaplanoglu's new drama called Bal (Honey), which is actually the final installment of director's trilogy that began with Milk and Egg.
In this movie we have an opportunity to see life of little Yusuf, and his tremendous love for his father.Yusuf's father is a beekeeper, and when his bees suddenly disappear, he starts a search wandering through the mountain forests in Turkey's eastern Black Sea Region. What else could a little boy do, but go after his dad…
Kind of old-fashioned family film, but still, it gives us a very nice-done definition of world watched trough little boy's eyes. That little guy is 8-year-old Bora Altas, who won audience sympathies with his touching performance. You're right, this doesn't sound like some shocking or usual political – bombastic story, and you could easily ask – so what's the point? We guess that this time the Jury decided – simplicity should win!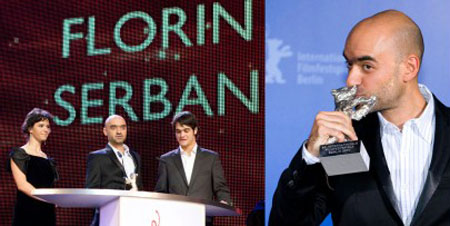 If I want to whistle, I whistle – Florin Serban's movie with interesting title, won the runner-up jury prize and both the Jury Grand Prix Silver Bear as well as the Alfred Bauer award for cinematic innovation. Here we have some prison drama with teenager's desperate try to escape.
Also simple, but very realistic story of another young man's growing up inside of the jail, and problems that he has with the outside world, especially his mother. Movie gained good critics, although we heard that those regarding to the story were – "not so well explained, and that drama is too thin". Anyway, we are pretty sure that Romania is very satisfied with this award, as Serban himself.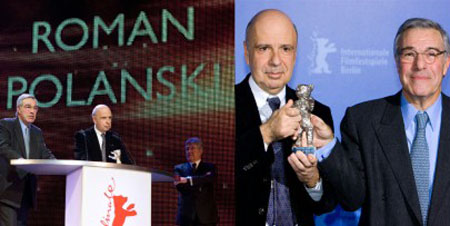 Silver Bear for Best Director went to hands of Roman Polanski for his political thriller The Ghost Writer, but the director could not be in Berlin to accept this prize because, let us remind you, he's currently under house arrest in Switzerland where he faces possible extradition to the US. Producers Robert Benmussa and Alain Sarde accepted the prize for Polanski.
"Even if I could I wouldn't go, because the last time I went to a festival to get a prize I ended up in jail." – said Polanski. Well, at least he got himself some nice memory of Berlin this time.
List of winners does not end here.
Chinese writer and director Wang Quanan and Na Jin won the Silver Bear for screenplay for Quanan's Apart Together which opened this year's fest.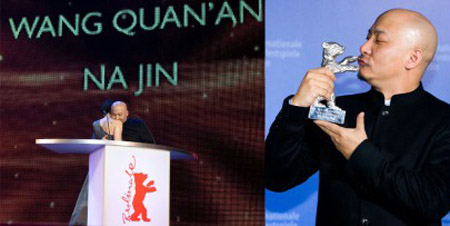 "This was the coldest Berlinale I've ever experienced, but in the theater, it was definitely the warmest that I've ever experienced," said Quanan, who dedicate the film, about the division of a nation and lost lovers trying to reunite after more than half a century, to the city of Berlin.
Russia's How I Ended This Summer was a multiple winner, with Grigori Dobrygin and Sergei Puskepalis sharing the best actor award and director Alexei Popogrebsky picking up an artistic contribution prize. Best actress went to Shinobu Terajima for the Japanese war drama Caterpillar.
Here's the list of the main winners from 20 films in the competition section:
GOLDEN BEAR FOR BEST FILM:
Honey (Turkey)
JURY PRIZE (RUNNER-UP):
If I Want to Whistle, I Whistle (Romania)
BEST DIRECTOR:
Roman Polanski for The Ghost Writer
Shinobu Terajima in Caterpillar (Japan)
BEST ACTOR:
Grigori Dobrygin and Sergei Puskepalis in How I Ended This Summer (Russia)
OUTSTANDING ARTISTIC CONTRIBUTION:
How I Ended This Summer (Russia)
BEST SCRIPT:
Apart Together (China)
ALFRED-BAUER PRIZE:
If I Want to Whistle, I Whistle (Romania)
BEST FIRST FEATURE:
Sebbe (Sweden)