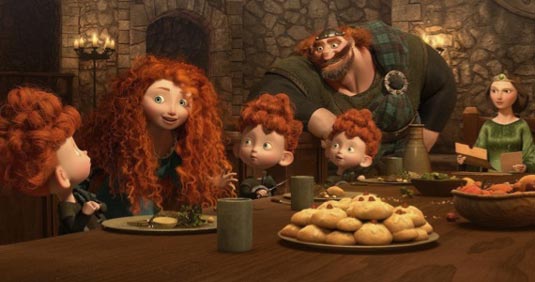 Disney Pixar has released two new clips from Brave, the studio's latest animated adventure, which is set in the Scottish highlands.
Kelly Macdonald
voices Merida, a rebellious princess who wants to change her fate. Take a look at a scene where Merida enlists a witch to make a special potion, and another where Angus the horse throws Merida into the middle of a Stonehedge-like structure. The clip is titled 'Potion making': And this one is titled 'Whisps': Brave was released June 22nd, 2012 and also stars
Billy Connolly
,
Emma Thompson
,
Julie Walters
,
Robbie Coltrane
,
Kevin McKidd
,
Craig Ferguson
,
Sally Kinghorn
. The film is directed by
Mark Andrews
,
Brenda Chapman
and
Steve Purcell
.