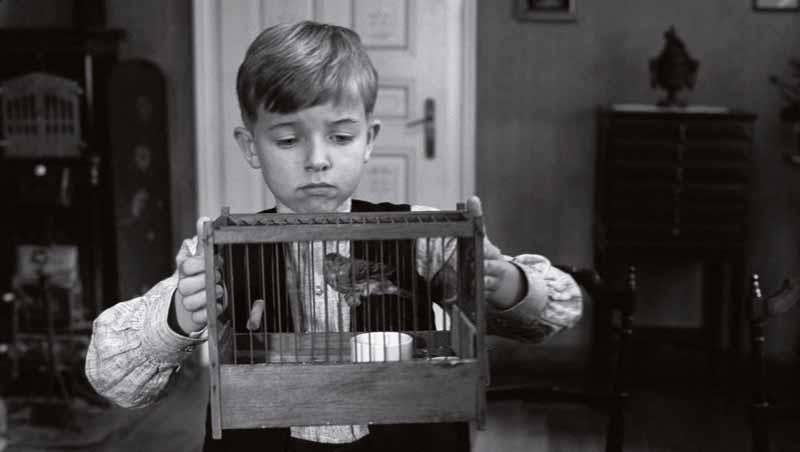 UPDATE May 24, 2009 –
CANNES 2009 WINNERS
Michael Haneke'
"
The White Ribbon
" ("
Das Weisse Band
") won
Palme d'Or!
"
The White Ribbon
" ("
Das Weisse Band
") directed and written by
Michael Haneke
is
in competition
for Palme d'Or at 62nd Cannes Film Festival. The movie stars
Susanne Lothar, Ulrich Tukur, Theo Trebs, Michael Schenk, Leonie Benesch, Josef Bierbichler, Rainer Bock, Christian Friedel, Burghart Klaussner, Steffi Kuhnert
and
Ursina Lardi
. Cannes best director winner Michael Haneke's ("
Cache
," 2005) latest focuses on a rural German school in 1913, which seems to be the sight of ritual punishment. The story of the children and teenagers of a choir run by the village schoolteacher, and their families: the baron, the steward, the pastor, the doctor, the midwife, the tenant farmers. Strange accidents occur and gradually take on the character of a punishment ritual. Does the ritual punishment have an affect on the school system and is this a precursor to the rise of fascism?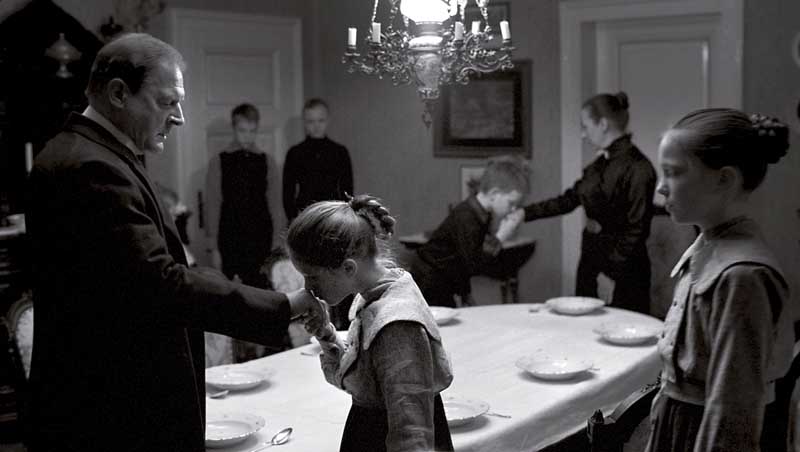 Reviews sound fantastic so this could be easily Palme d'Or winner. "…The film works on several levels – as a story of hypocritical adults and their unbalanced children, a picture of patriarchal community life and a snapshot of how 20th century Germany was shaped… "…Of course, this being Haneke, there is nothing as simple as a reveal in which the culprits are unveiled. Instead, he takes pleasure in the tensions along the way and the catastrophic repression behind every sentence uttered. The villagers of The White Ribbon are quite the most disturbed ensemble of characters to emerge from a film-maker's mind in some years… "…But all is not as straightforward as it seems. The possibility that the children themselves have become monsters bears chilling implications for the events which will take place in Germany over the following 30 years."
ScreenDaily
"Pairing visual mastery with a quietly immersive story, "The White Ribbon" plays like a morbid version of "Our Town," patiently revealing the inward discord beneath the surface of a settled community. It's a frightening depiction of mortality."
IndieWire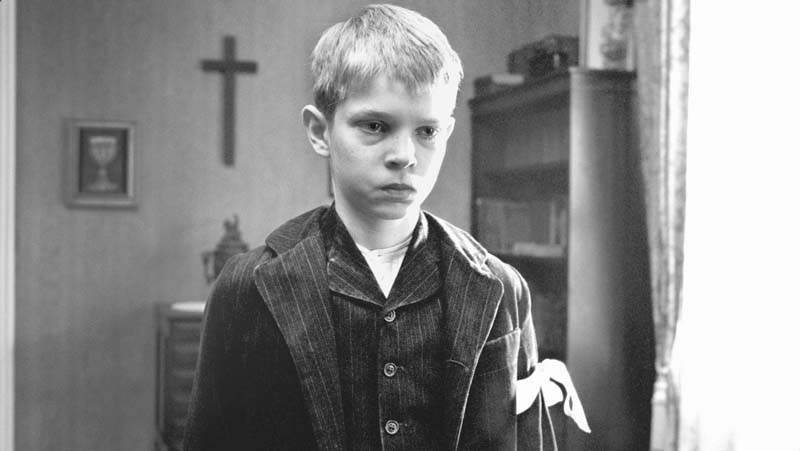 "…This dark, dark indictment of the Protestent German psyche in a small rural village as Europe hurtles to war should be a must-see for arthouse audiences everywhere…"
Screen DailyBlog – Fionnuala Halligan
"…Perhaps closest to his two-part 1979 TV film "Lemmings" that scrutinizes the ills passed down from generation to generation, but similar as well to a number of his other pictures, including his 2004 international hit "Cache" (Hidden), in its refusal to clearly solve the deadly central mystery, this ironically titled film goes beyond its general analysis of humanity to implicitly suggest some tendencies in the German character and culture that could point to certain developments in the subsequent three decades…
…Marbled in between such occurrences are slashing glimpses of village life, including the pastor's brutal caning of his children over a mild disturbance; a woman's frustration at a musical accompanist who can't keep up; and a little boy's questioning of his nanny about death, in the course of which he learns that his own mother, supposedly away on a long trip, is no longer living. The rare expression of genuine childhood innocence and good will is occasionally tolerated, but more often squashed, by the grown-ups, but even children's own true nature comes increasingly under a cloud, to the point where "The White Ribbon" feels like a thematic companion piece to "Lord of the Flies."
Variety
"It's turning out to be an uncommonly interesting Cannes competition. Festival regular Michael Haneke (Funny Games, Code Unknown, The Piano Teacher, Hidden) returns to the Croisette this year with an extraordinary, rigorous drama set in a small village in Protestant Northern Germany in the years before the First World War. Shot in sober black and white, with no musical score and told with a stately and deliberate pace, The White Ribbon is infused with a fascinatingly austere cruelty."
TimesOnline
"…Once the film comes to a close, you might be asking the same questions as early on: why are we watching these people? Why do they behave as they do? Who is behind a series of crimes they suffer?…"
TimeOut
Some clips are available but in German and with French subtitles. In this clip below a little boy's questioning about death, in the course of which he learns that his own mother, supposedly away on a long trip, is no longer living. You can find more clips from "The White Ribbon" at Films Du Losange [flv]http://www.filmsdulosange.fr/video/cannes09/ruban_ext1.m4v[/flv]