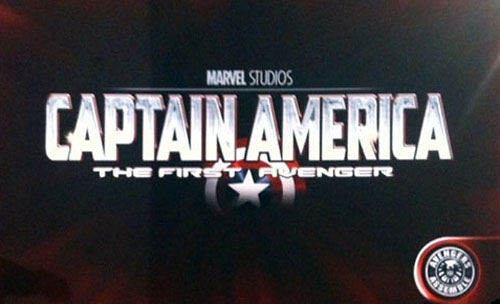 Marvel Studios have premiered new logos for the upcoming films Captain America: The First Avenger and Thor at the 2010 Licensing International Expo in Las Vegas.
Captain America: The First Avenger 
will focus on the early days of the Marvel Universe when Steve Rogers volunteers to participate in an experimental program that turns him into the Super Soldier known as Captain America.

Born during the Great Depression, Steve Rogers grew up a frail youth in a poor family. Horrified by the newsreel footage of the Nazis in Europe, Rogers was inspired to enlist in the army. However, because of his frailty and sickness, he was rejected. Overhearing the boy's earnest plea, General Chester Phillips offered Rogers the opportunity to take part in a special experiment… Operation: Rebirth. After weeks of tests, Rogers was at last administered the Super-Solider Serum and bombarded by "vita-rays." Steve Rogers emerged from the treatment with a body as perfect as a body can be and still be human. Rogers was then put through an intensive physical and tactical training program. Three months later, he was given his first assignment as Captain America. Armed with his indestructible shield and battle savvy, Captain America has continued his war against evil both as a sentinel of liberty and as leader of the Avengers. Starring Chris Evans as Steve Rogers, Hayley Atwell as Peggy Carter and Tommy Lee Jones, Hugo Weaving as Red Skull, Stanley Tucci as Dr. Abraham Erskine, Samuel L Jackson, Sebastian Stan, Toby Jones, Dominic Cooper Marvel Studios' Kevin Feige will produce Captain America: The First Avenger. Alan Fine, Stan Lee, David Maisel and Louis D'Esposito will executive produce. The film will be released in the US on July 22, 2011 and distributed by Paramount Pictures.

Thor
The epic adventure Thor spans the Marvel Universe from present day Earth to the realm of Asgard. At the center of the story is The Mighty Thor, a powerful but arrogant warrior whose reckless actions reignite an ancient war. Thor is cast down to Earth and forced to live among humans as punishment. Once here, Thor learns what it takes to be a true hero when the most dangerous villain of his world sends the darkest forces of Asgard to invade Earth. Directed by Kenneth Branagh, in Thor, Chris Hemsworth portrays the title character with Tom Hiddleston in the role of Thor's brother Loki, and Natalie Portman as Jane Foster. Additionally, the studio has cast Academy Award® winning actor Anthony Hopkins as Odin, Renee Russo as Frigga, Ray Stevenson as Volstagg, Tadanobu Asano as Hogun, Josh Dallas as Fandral, Jaimie Alexander as Sif, Idris Elba as Heimdall, as well as Colm Feore, Kat Dennings and award-winning actor Stellan Skarsgård. The screenplay for Thor was penned by Mark Protosevich as well as Ashley Miller & Zack Stentz, and Don Payne. Marvel Studios' President Kevin Feige will produce the film. Alan Fine, Stan Lee, David Maisel, and Marvel Studio's Co-President, Louis D'Esposito, will executive produce. The film is slated for release in theatres domestically on May 6, 2011 via Paramount Pictures which will also release the film on a worldwide basis.