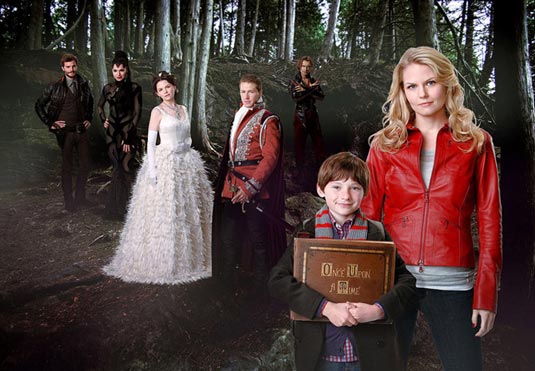 There's a virtual buffet of great TV shows set to be featured with panels throughout the San Diego-set event, and Once Upon A Time is among them. The SDCC poster for the ABC's storybook drama series only heightens the anticipation. TV Line got the exclusive on the hi-res Once Upon A Time poster below, which showcases some of the lead characters of the drama in anticipation of the series' upcoming second season.
From left to right, we have Ruby (Meghan Ory), Regina Mills (Lana Parrilla), Mary Margaret Blanchard (Ginnifer Goodwin), Emma Swan (Jennifer Morrison), David Nolan (Josh Dallas), Belle (Emilie de Ravin) and Mr. Gold (Robert Carlyle). It's especially great to see Ruby and Belle featured, as both Ory and de Ravin are set to be series' regulars in Season 2. If you have watched the first season, you know that this is a Snow White story with a different twist – quite different than recent big-screen-feature takes on the same story, and to my opinion better told, with deeper characters – and I loved the way they intertwined various fairy tales into one, with Mr. Gold/Rumpelstiltskin as a centerpiece. If Carlyle hasn't won an Emmy for best TV actor yet – please give it to him! Here's the info for the Once Upon a Time panel, set for Saturday, July 14th:
11:00-11:45 Once Upon a Time— Magic is coming! Moderator William Keck (TV Guide Magazine senior editor and columnist) takes you to Storybrooke, where a curse placed on its fairytale inhabitants by the Evil Queen has been broken and reality and myth have merged. It's a place where magic is about to be introduced, but with it comes its own set of consequences. Co-creators and executive producers Edward Kitsis (Lost, Tron: Legacy) and Adam Horowitz (Lost, Tron: Legacy), along with Ginnifer Goodwin (Big Love), Jennifer Morrison (House), Lana Parrilla (24), Josh Dallas (Thor), Emilie de Ravin (Lost), and Meghan Ory (Vampire High) engage in a Q&A about their hit TV series. Ballroom 20.
Stay tuned for updates! P.S. Have you noticed how the quality of TV series grows while at the same time quality of films decreases?