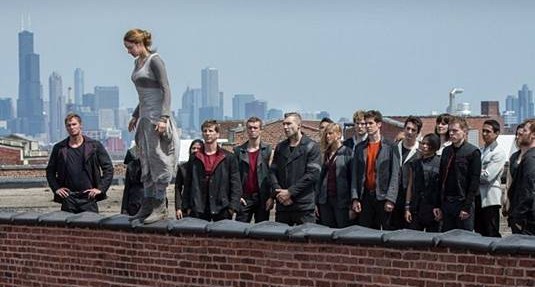 Shailene Woodley
is ready to jump in a brand new still from the upcoming
Divergent
movie! Oh, sorry, it's actually Beatrice (Tris) Prior, ready for initiation into the
Dauntless faction
. Or something like that. As you probably remember, the whole thing is set in a futuristic dystopian Chicago where society is divided into five factions. So, everything is possible… In other words, Woodley will have to fight, shoot, throw some knives, and to battle her way out of her worst fears imaginable. If she succeeds, she will be a Dauntless forever.
That's a deal
. But, all that will change when she learns that she is actually Divergent (meaning she doesn't belong to any of the factions). As we previously reported, director
Neil Burger
stands behind this thrilling adventure which is based on
Veronica Roth
's debut novel of the same name. He directs the whole thing from a script written by
Vanessa Taylor
and
Evan Daugherty
. Beside Woodley,
Divergent
also stars
Theo James
,
Kate Winslet
,
Ray Stevenson
,
Mekhi Phifer
,
Maggie Q
,
Jai Courtney
,
Miles Teller
,
Zoë Kravitz
,
Ansel Elgort
,
Ashley Judd
and more, and the movie is already set to open on March 21st, 2014. Click on the image to enlarge & let us know what you think about the movie so far!