Movie News
DRAGON BALL Z: BATTLE OF GODS Film Story Outlined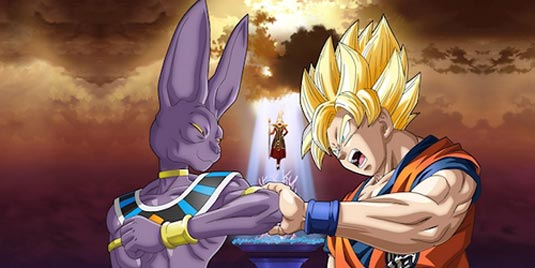 Toei Animation's website for next March's Dragon Ball Z: Battle of Gods (Dragon Ball Z: Kami to Kami) film was updated on Monday with a story introduction. Read the synopsis after the jump.
The story is set several years after the battle with Majin Buu. Birusu, the god of destruction who has maintained the balance of the universe, has awakened from a long slumber. Hearing rumors of a Saiyan (Saiya-jin) who defeated Freeza, Birusu comes looking for Goku. Excited that a powerful oponent has appeared after so long, Goku ignores King Kai's advce and challenges Birusu in a battle. However, Goku is no match for Birusu's overwhelming power and is defeated. Birusu leaves after uttering an ominous message, "Is there anyone on Earth more worthy to destroy?" Will Goku and the others really be able to stop the God of Destruction?
The site also notes that Akira Toriyama's original Dragon Ball manga has sold over 230 million copies worldwide. The next batch of advance tickets for the film will go on sale on December 15th with two different sets of three Dragon Ball-shaped pens. Dragon Ball Z: Battle of Gods is set between the 517th and 518th installments of Akira Toriyama's original manga. Specifically, it is set during the "lost decade" of story time after the end of the battle with Majin Buu. Kuririn, Piccolo, Vegeta, Gohan, and other familar characters will appear in the film with an all-star cast. The film is not a spinoff, but a story in the official history of Dragon Ball. Akira Toriyama has been deeply involved in the film's story and designs from the early screenwriting stages. Masahiro Hosoda (Dragon Ball Z episode director, Nangoku Shounen Papuwa-kun) is directing at Toei off a script by Yūsuke Watanabe (live-action 20th Century Boys trilogy, Gantz, Bloody Monday, Future Diary). The film will open in Japan on March 30th, 2013.