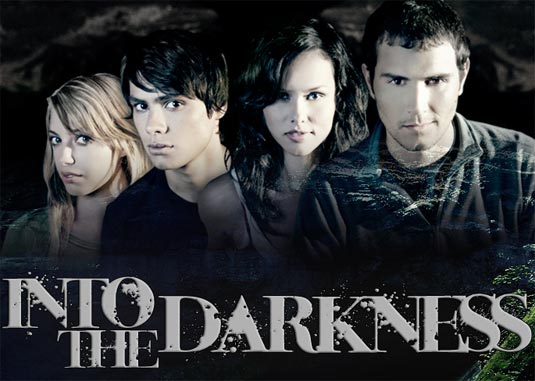 Exclusive poster for indie horror/thriller "Into the Darkness" has just been released featuring the four leads Dalal Bruchmann, Kiowa Gordon, Anna Enger and Wolfgang Weber. Film poster art was created by our Ford Fairchild.
The story follows a group of friends descend upon a remote wilderness area to camp and party reuniting after a year apart. Their decision to embark on a short exploration of an unknown cave system turns into a horrific struggle for survival. Can they find the light before the darkness finds them?
"Into the Darkness" stars Kiowa Gordon (Twilight Saga: New Moon), Louis Mandylor (My Big Fat Greek Wedding), Wolfgang Weber (Nip/Tuck, CSI: Miami), Austrian actress Dalal Bruchmann, Anna Enger (Drop Dead Diva), Film Threat Magazine's "Indie Actor to Watch" Russ Russo, Darian O'Rear and Ronnie Patel.
The horror/thriller is directed by Clint Brandel and Dustin Masters from the script written by Paul and Jade Moser.
The promo /teaser trailer for the movie will be released sometime in early October 2009.
"Into the Darkness" is set to release March 2011.