Movie News
Imagine Entertainment Sets Salvador Dali Biopic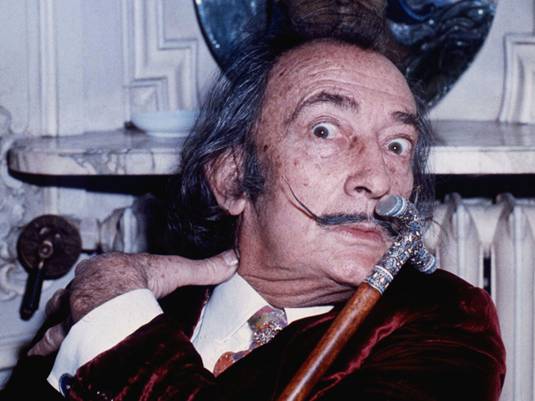 Imagine Entertainment is planning a biopic based on the Salvador Domènec Felipe Jacinto Dalí i Domènech, Marquis de Púbol, known as
Salvador Dali
, one among the most versatile and prolific artists of the twentieth century. Until now, none of the films (e.g. Little Ashes, Midnight in Paris) about legendary surrealist has had the official stamp of the Gala-Salvador Dali Foundation. But now, colorful, bombastic, and loud artist is getting a biopic of his own, with the support of producer
Brian Grazer
and Imagine Entertainment. Relative newcomer,
Paige Cameron
, is hired to write the script, which will revolve around Dali's influences on art, cinema and fashion along with his turbulent marriage with his theatrical wife, Gala. Cameron only has one produced credit, a short film called Hills Like White Elephants with another biopic in the works called Satchmo, but she has made quite an impression on the Gala-Salvador Dali Foundation and will be granted by documents, photographs, drawings, letters and other exclusive content to use while writing the script. Managing director Joan Manuel Sevillano said:
The Gala-Salvador Dalí Foundation's interest in a biographical film has always been limited to one that would involve an A-list team. We are delighted to have this project in the hands of Imagine, a production company whose taste and exacting standards of execution are in keeping with Dalí's legacy, as well as Paige Cameron, a screenwriter we admire and trust.
There are no actors and no director or start date attached in the very early stages. Who do you think would make a good Dali? He was previously memorably portrayed by Robert Pattinson (2008 Little Ashes) and Adrien Brody (2011 Midnight in Paris). Here's a 'much less' pretentious picture of him making a guest appearance on the 1950s hit game show What's My Line – he literally answered 'yes' to all the questions. [youtube]http://www.youtube.com/watch?v=iXT2E9Ccc8A[/youtube]