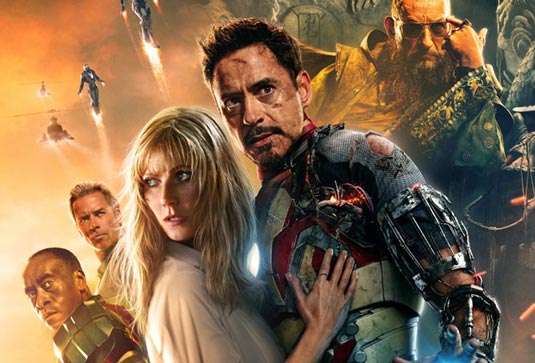 Disney and IMAX have unveiled the "12:01" poster for Shane Black's upcoming sequel Iron Man 3. As part of the IMAX 12:01 series, this poster will be handed out to moviegoers attending the midnight showings of the flick, and it looks pretty awesome. Check it out below: The poster design comes from artist Jock, who also created last year's great Dark Knight Rises Mondo print. The unveiling of this Iron Man 3 poster also comes with the announcement that this will be the last print in the IMAX 12:01 series, which is a bit of a shame since they've released some really impressive posters over the past year. So you've heard it, folks – if you want to grab one for yourself, make sure you arrive early to your midnight showing since supplies are limited. Synopsis:
Marvel's "Iron Man 3" pits brash-but-brilliant industrialist Tony Stark/Iron Man against an enemy whose reach knows no bounds. When Stark finds his personal world destroyed at his enemy's hands, he embarks on a harrowing quest to find those responsible. This journey, at every turn, will test hismettle. With his back against the wall, Stark is left to survive by his own devices, relying on his ingenuity and instincts to protect those closest to him. As he fights his way back, Stark discovers the answer to the question that has secretly haunted him: does the man make the suit or does the suit make the man?
Iron Man 3 opens on May 3rd, 2013.